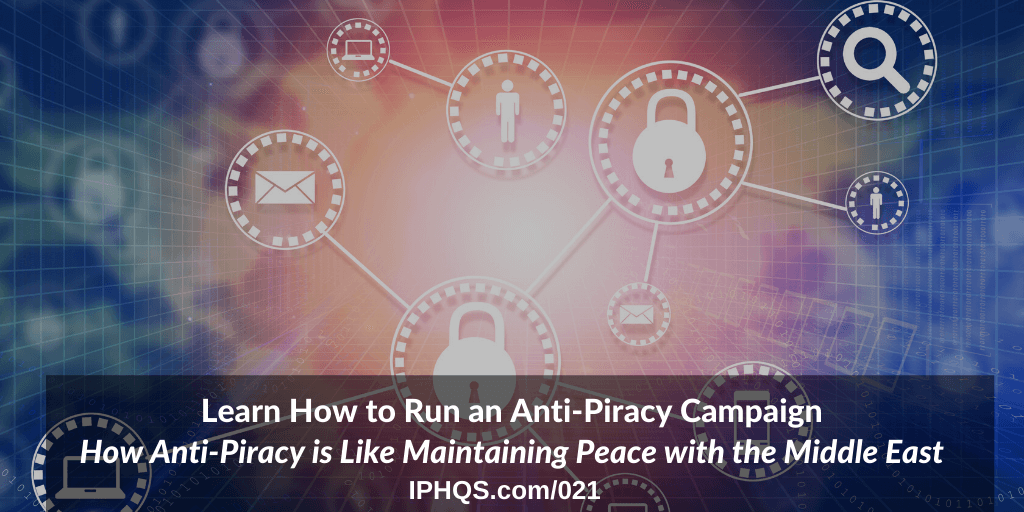 In this episode you'll hear steps you can take to put together and run a successful anti-piracy campaign. This is for musicians, artists, photographers, course creators, podcasters, film makers, videographers, journalists, writers, publishers, product makers, manufacturers, distributors, patent holders, copyright owners.
Click HERE to Listen on Google Play
Click HERE to Listen on iTunes
✅ How and why to use a win-win approach.
✅ How an organized intellectual property portfolio is a tool (spreadsheet).
✅ Steps content owners can take to get a campaign running.
✅ Suggested tactics and methods for copyright owners to solve piracy issues.
✅ What works for our award-winning clients and how we succeed.
✅ Why some anti-piracy campaigns are whack-a-mole & pay a bill game.
To some, this title, "How Anti-Piracy Measures Is Like Maintaining Peace with the Middle East," may seem a bit dramatic. However, I would suggest that no matter the choice of weapons, balancing emotion is typically solved with a tense agreement and the exchange of dollars or services. Welcome to my day.
I stand at the cross road, as a controller, between groups of creators and intellectual property owners AND users and abusers of their work.
In a little bit I am going to tell you about some conversations and emails I have received that are colorful but not new.
From my experience content producers are passionate. I know, I am one of you. If you spent time creating a song, writing a book, imparting your knowledge into a course, capturing the perfect moment for a movie or a photograph, taking paint to canvas, you put a piece of yourself into that work. When that work is taken and used without permission or used in a way that you may not agree with, more often than not, this generates an emotional response. If you only paid to own the content, as is common with many large studios or labels, invariably, infringing use generates a similar response. For some, it presents as hot as rage.
Pirates as in those who take and use content without permission, typically for some commercial gain, do not have an emotional attachment to the content they took and are using. To them, it's a tool to make money. The elements used to think of it, develop it, create it, don't matter. It's a tool. It is assisting in generating revenue or not. It is just that simple.
This may sound like an elementary lesson in anti-piracy but it's important to reiterate. It is important to remind oneself that this is what you will deal with if and when you produce and distribute content or release a product into the world. This should never stop you from releasing anything. Why, because its something that can be addressed if and when it becomes an issue for you.
Why do I share all of this? I want to let you into my world. If I can give you a moment of clarity around any piracy issues, then you can be more effective when handling the issue.
Many of our tactics are unconventional and require a level of trust. Trust is earned so asking for it upfront can be hard for some to swallow. As you can imagine, executives and attorneys are not usually fans of that word out of the gate. However, the good news is that it usually takes a while for a company to find us. I actually prefer if they have gone through circles with others because they at least have an idea of traditional steps that may not be working. We don't advertise. I don't go to a lot of trade shows. Up until this podcast, our business was 100% word of mouth.
We released our first episode of The Copyright & Intellectual Property Podcast in July 2019 and in a short period of time we have built and continue to grow an audience from all circles. I love feedback and it's come in from do it yourself creators, executives whom I admire from huge companies, top attorneys, academics, and yes, some pirates. So, whether you identify as a content creator, distributor, publisher, or proudly or reluctantly define as a pirate or even a person who doesn't give a shit about content, know my message doesn't have a hidden agenda.
What I suggest here is what WE actually put into practice. You can apply this work into your practice. To those that have shared your successes with me, thank you. It always great to hear when my suggestions generated a positive result.
In our Facebook Group Tony posted, "Your podcast was an insane amount of help, thank you from the bottom of my heart."
Rafah on our FB Page wrote, "I realized just how valuable I really am…and it needs to be protected at all costs."
That is just awesome.
New Client Experience at Battleship Stance
Battleship Stance is an intellectual property management, anti-piracy, and legal services company. We help companies and individuals identify, develop, protect, and manage their intellectual property rights around the world. We specialize in creating and managing ongoing campaigns for rights holders.
This is not an advertisement or a pitch. I need you to understand a little about what goes into what we do so you can find ways to apply this to your efforts. No matter the size or scale, any effort is some effort and can generate huge results.
If you are small or big, a creator looking to address an issue or an attorney looking to expand your practice here is what we do. Also know one of the services we offer is if you don't want us full time, we can come in, train your team, put procedures into place, if need be, we'll map a campaign, and stay available for questions.
Battleship Stance's campaign clients sign on for a minimum 24-month contract. We present and agree on a budget that is projected out two years. On occasion we collectively amend the budget but for the most part we stay within the parameters. On average it takes about three months for a new client to see any meaningful results. These times are a good baseline for you.
Every client, and I imagine like you, is a little different in that they have varying goals and objectives. Many of our clients have shared goals. These shared goals allow us to handle situations at varying levels from different angles simultaneously.
If you are a "do it yourself" creator or small to mid-sized producer you may want to deploy tactics that are not typically costly. This can be sending notices to engaging pirates, among others. If you are a larger sized producer then litigation tactics should be part of your campaign strategy. It can be used as a motivational tool and/or to stop a game or send a message and/or generate a result.
For you, as you consider various approaches, it's important to ask yourself and answer this question, "how aggressive am I prepared to be?" Do you have the stomach for litigation? Are you psychologically prepared for legal war? I covered tips and tricks for this in Episode 13. If so, how aggressive are you really prepared to be for the next two years or more? If you only want to send letters and see what results you get, that approach can and does work but you need to pick your targets based on that model. If you are not prepared to potentially fight in court or courts around the world, then again you have to pick targets who won't require you to go there. How do you know who to pick? This comes with time and experience.
If you just want your stolen work taken down, send takedown notices, as many as it takes to whoever is connected with the site hosting your stolen work. We have templates on iphqs.com you can use.
On-boarding. The first month is typically spent in what we call on-boarding the client. This is the period where we get a handle on what the intellectual property portfolio is and the respective registrations be it copyright, trademark, or patent. This includes listing out links or ways we can quickly see samples of the intellectual property, and organize the IP into electronic documents and configure it into all of the forms and software that we can use to do what we need to do. If you followed the steps in Episode 20, then you are done with on-boarding yourself.
The end of the first month into the middle part of the second month is spent defining the landscape of a particular client's issues, mapping the issues, and then assembling a target list and executable plan. This list is then crossed against our existing case library. For you, I would suggest searching for stolen content and keeping track of the links using your spreadsheet or in a notepad. It doesn't have to be elaborate at all. Links in a notepad and PDF samples are evidence enough if you really get down to it.
We then get to work on addressing the issues. These steps are determined based on need. This could include take down notices, subpoenas, case documentation, investigative work…its situation specific.
Here is an example.
Almost three months ago to the day we took on a new studio. Like many, they had gone through other companies and tried different tools in attempts to deal with their piracy issues. They were frustrated. They reluctantly signed up and didn't believe that we could provide much. They trusted enough to sign a deal. The reluctance was not a reflection of me or our services but rather directly from the experiences they had. Content creators, studios, producers, and the like don't like seeing their content abused. I don't either. Frustration can go quite well with anti-piracy efforts. This studio was pissed with feelings of hopelessness, at all executive levels.
We onboarded them and got to work. I was able to get in contact with the owners of several of their largest infringing sites. One of those we were already in negotiations with for another studio.
If you have listened to other episodes or seen me speak you have heard me offer up various approaches to solving specific piracy issues. I've suggested affiliate relationships, channel deals, overall traffic deals in addition to immediate takedown and future compliance with or without a cash component.
What I have not spoken loudly about is how we also dismantle and destroy the will and bank accounts of pirates that don't want to work out a deal. At this point, that is only for our clients to benefit from.
As a result of suggesting ongoing relationships, critics who don't know and critics who are not experienced clients have initially called me soft on piracy. In this example, for one particular site, based on their stats, meaning their traffic sources and ad revenue they didn't have much to take upfront. They were communicating with us. If I pushed out a huge number they might scatter and that would only create more issues and cost more to get us back to talking.
The Long Game
Sometimes it makes business sense to play a long game. If you want to tackle difficult piracy issues, this is important, I cannot stress that enough, this is important, so listen up…
Using this one site as an example, they have about 20,000,000 hits per month, 30% of which is from the United States. Their next largest blocks are Poland, Germany, and Korea. A little all over the place. The site is growing at a healthy rate and should be a lot more than double their size in a year.
Now, some may say get rid of the site. That is what certain associations and companies advertise in their press releases and what looks like bi annual victory laps. They have a working model. I think those models could be tweaked to create certain results faster.
If you just want to shut sites down, this site operator will probably just go open five more sites filled with pirated content and then grow them out until one site stands out enough to focus on it full time. In that period of time, you now have piracy times five sites instead of one. Five new sites that can be sources for other sites to get content from, five new sites you have to send notices to, five new sites you have to figure out if they are connected by a common ownership, and then those sites in turn have others who pull from them through embedded links. All you have done by killing this one site, is create five or more new and much larger problems now and down the road.
Based on this operation, this operator is not going to just go away even if we get a huge judgement and get a judge to block access to the site. The, "why this operator won't disappear," is irrelevant to the story, believe me or don't.
I suggested immediate takedown of client content, future compliance, and an affiliate relationship and small payout. This site has been growing and will continue to grow, again probably more than double in a year. Taking all of the factors I shared into account, I see this from two angles and I suggest you consider doing the same when you find a site that is pirating your work; one, what can I do for our client now and how will this best serve all of our clients in the future. Two, since this operator is growing, how can I help them make more through smarter traffic deals while positioning our ability to deal with them if need be in the future. At all times while they stay compliant with studios whom we represent.
I sent the options off to our client. This is our first settlement. Even though we discuss various options early on with clients, as early as in initial presentations, until the word "traffic deal" is shown as a real-life option most don't seem to hear that option.
Many studios, content creators, patent holders, etc. focus on how much money can we make doing this? It's short thinking if that is the only item you are focused on.
Its why many anti-piracy campaigns are just whack-a-mole and pay the bill games.
For a site with 20,000,000 hits with mismanaged traffic from only a few valuable countries, the answer is they aren't worth much today.
Benefits to Playing a Long Game with Certain Pirates
However, if they step out in a year or two…once they are substantially larger…and making more from smarter traffic deals…well now…they have something worth taking. and they have something they don't want to lose. Now…you have…a good collectible fight. and you know the numbers, the where, and the who.
If your cocking your head or smiling, know we are strategic in how we help structure deals and help sites.
What if doesn't have to be a fight? If they step out in two years, we helped them grow. Why would they want to completely ignore us? We haven't done anything in two years to deserve them being assholes to us. Rather, we worked with them to help them grow while making sure they don't abuse our client's content or products. Win-win? Yes.
Does being a little nice today work tomorrow? Yes, and here is a recent example:
In late December I was contacted by the owner of a large cam site company who was attempting to help a woman who had been camming on his network. She had been live camming while waiting on news of a lucrative job offer. She got the job and wanted her content to disappear. Live cams are typically streamed and not recorded by the producer. In the case of this woman, a private show had been recorded and uploaded to a tube site by the person who paid for the private. The cam site owner had hired two other company's and he himself had sent notices to have content removed without success. The model was concerned about the long-term ramifications. Through the grape vine we were connected and I told him I would take a shot, if successful he could pay us if not, so be it.
This is not what we are usually retained for but if I can help a model and a cam company, that is just smart business and good juju. Fortunately, the content was only showing up on one site and two Twitter feeds, this is a rare occurrence. Story short, I had the content removed in less than a week.
How?
When he reached out, he didn't know about Twitter, we discovered that and followed the normal process for removal. The site it landed on was a tube site not known for doing anything with takedown notices. This site has been sued in the past. What attorneys and others have missed in many of their campaigns is that the owner, his revenue generating advertising partners, the domain registration, host, and CDN provider are in locations where US Laws are toilet paper and his own countries copyright laws really don't mean much. Five years ago, I had addressed and resolved issues with the site owner. He and I left a situation on good terms. He makes more today than he did then and he doesn't infringe on our client's content. I reached out on Skype, shot him a message and had the content removed. In full disclosure, I was part of every lawsuit that went no where with this guy. At the time we did them, I thought we would get somewhere different. In the end, it was talking it out, that resolved it. He could and still could care less about the lawsuits.
Sometimes you just have to play the long game.
Welcome to base points to consider for a successful campaign.
If you are in the business and wondering how you have never heard of us, that is pretty simple. This is not uncommon. Most of our work is done behind others or quietly for others.
Ok so our client emails me back and writes,
"We didn't sign up to just work with pirates. We want to confirm that you understand that part correctly."
They added, "co-existing with pirates is like you are selling our own blood and meat to us." I love that one and I appreciate that one.
They finished with, "what are you proposing?"
Simple, here is basically how it went down and I am mixing my language with that of a few other participants.
Message to Client:
Dear Big Movie Studio,
I am in no way suggesting that we work with all pirates. I am not interested in selling you your own meat. What I am interested in is securing you the best situation we can today with one pirate running a limited issue site who we can touch now. This in no way impacts the other sites we are dealing with or addressing. We are proposing that we have your content taken down and have it stay down. We are proposing that the site give you favorable ads on an affiliate payout. We are proposing that this site pay you a nominal amount so they emotionally seal the deal with something tangible. Currently we do not believe that this site has the money for a fight and any funds spent on that effort will take away from other areas and not be recoupable.
We are proposing that you take the deal and we move on to the larger, more problematic sites we are already addressing. No need to continue spending energy on a small fish today who is willing to agree to our most basic of terms. Since we already agreed that step one for any deal is content removal, we will get that handled now.
If this person infringes any of your content in the future, we propose that we immediately and without any notice, lock up their funds, file a lawsuit, and take everything.
To quote the awesome 80's movie…
Sincerely Yours,
The Breakfast Club (Awesome 80's Movie)
Message to Pirate:
Dear Friendly Pirate,
We have spoke to Big Movie Studio about some of the terms we discussed. We and the Big Movie Studio are giving you one day to remove all of their work. You will sign up for their affiliate program through this link and they will pay you for sales generated. This deal is completely predicated on you honoring your word and not putting their content on your sites ever again. We checked with our other movie clients and this is true for these other studios listed below. I have attached a list of links to films that need to come down and listed them out by studio. Let's be clear, in future should you have any of their films on any of your sites, they have shared that they will immediately file suit on you and probably name you personally. A lawsuit from any of them against you can be avoided by leaving their content alone forever.
As I promised I will have a, b, and c from 1, 2, and 3 companies reach out to get you setup so that you can make a lot more with your traffic. If I can of any other help feel free to reach out. I am confident that this will look substantially different in a year.
Sincerely Yours,
The Breakfast Club (Awesome 80's Movie)
Chat Log With The Pirate Site Operator & Outcome
This pirate had previously asked me,
"Why are you helping me?"
"Are you involved in the businesses you are referring me to?"
"You're a pirate hunter."
My answer was simple and honest. It doesn't cost me anything to help someone by leveraging our relationships. I'm not just a pirate hunter. I have run sites, I have bought and sold domains. I have owned a studio. I have shot content. I create content. In the course of 20 years I have built a network of relationships. So, if I can put you in touch, it costs me nothing. What it does is create opportunities for all. Just being out to have content removed without helping someone recover from the takedown and grow is short term thinking. I will be around in years and so will you. We never know when paths could cross or we made need something.
For you the listener you may want to keep that in mind. It costs you nothing to provide support if you can. If you don't and just want to crush them, go for it. Remember crushing has a price and you may not know what the bill looks like up front.
His reply was, and I quote, "that makes sense. You're really a sophisticated man. Thank you for helping me. I was scared but I understand what I need to do."
The next day when I turned on Skype was a message, "Jason, it's all down. I won't put content up from the studios you sent. Just wanna make sure, we are cool with the takedown issue now."
He transferred the money yesterday.
Over 1200 movie links from the site that were also embedded on over 20 other sites are gone. Problem solved.
As I shared at the beginning of this episode, I stand at the cross road, as a controller, between groups of creators and owners AND users and abusers of their work. A hammer is not always a solution. Unless you have a nail to hit, you are just a guy swinging a hammer.
To wrap this up, I suggest that if you are going to be around creating content for a long time, use the same long term thinking that you apply to your brand, your business, to your piracy issues.
Our Early January 2020 Wins
I will share that so far this month we also had hundreds of videos removed from tube sites and movie sites. About 75 videos removed from Twitter and about a dozen from TikTok. Our legal team prepared a large lawsuit that should be filed in the next two weeks. We have DMCA Subpoena answers that just came in and three more that went out. We shut a pirate site down and one turned a domain over to us. Not a bad way to start 2020. Welcome to the long game.
I hope that this helps you think smarter as you make what can appear to be hard, emotional decisions. Listen to our other podcast episodes for the tools to support you in keeping anti-piracy a little more simplified and less time consuming.
If you have questions or want to share experiences, you can join and post inside of our FREE Facebook group at Intellectual Property HQ Community.
You can follow me on Twitter @IntelPropHQ
If the podcast episode or the blog post is informative or helpful to you in your endeavors, please subscribe, and share it with your friends.
Also please take a moment and leave us a five-star review on iTunes.
Happy Hunting!
#copyright #copyrights #licenses #podcasts #intellectualproperty #influencers #photographer #entrepreneurship #writer #videographer #movies #courses #books #images #art #photography #music #OnlineEntrepreneur #blogger #designer #IPLaw #journalism #news #journalist #author #musicmarketing #digitalstrategy #musicbiz #publishing ‪#contentstrategy #contentcreation #digitalmarketing #marketing #contentmarketing #socialmedia #writing #tiktok #independentjournalist #content #musictech #musicbusiness #licensing #publisher #musicians #musician #producer #talent #IP #contentstrategy #legal #creator #writers #musicians #musicbusiness #nosmallcreator #smalltuber #publicfigure #YouTube #podcaster #DRM #RightsManagement #MPA #MPAA #RIAA #ACE #CASEACT #Twitter #UDRP