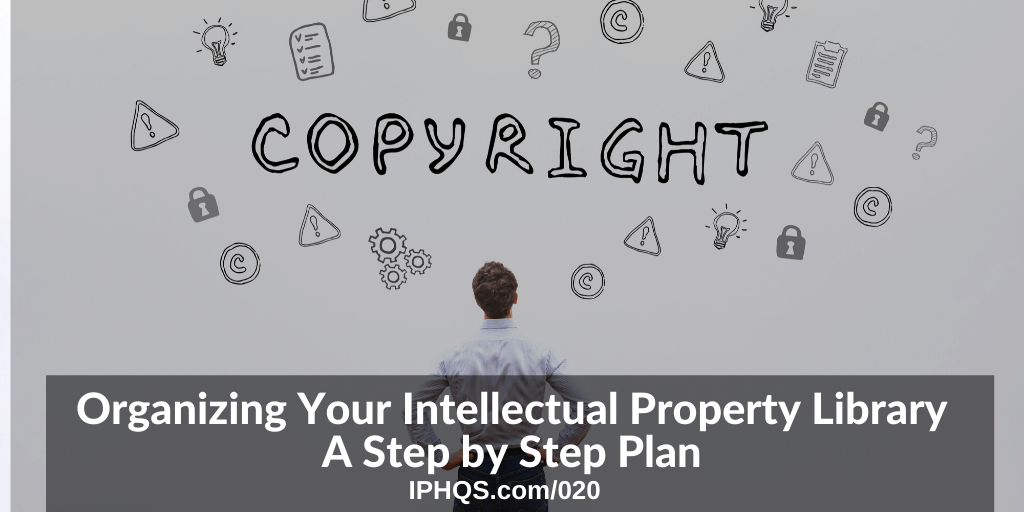 Learn a do-it-yourself ( DIY ) to organize your creative work using a simple, easy to implement, step by step plan. Though courses, videos, blogs, posts, music, podcasts, art or other works or files may be in different locations, you'll hear how to create and track all copyrighted, trademarked, or patented works from one spreadsheet.
Click HERE to Listen on Google Play
Click HERE to Listen on iTunes
New Year, time for inventory. If you are listening to this episode at any time of the year, you can take inventory of your work. When you think about organizing your library of work, you may think that sounds like a lot of work.
I understand that you may not like systems. You may enjoy procrastinating. This process is simple enough that it may already fit with notes you have. It's just in one place.
You may be thinking, Jason, you don't understand, I have been writing blog posts every week for three years. I have been putting out a weekly podcast for four years. I'm a photographer, I have been shooting photos for twenty years; I have thousands of pictures. Ok. That doesn't mean it has to be difficult to organize the work. It does mean we need to spend a little time with the work.
In the last decade, I co owned what at the time was one of the world's largest libraries of niched images. I was told by advisors that we needed to organize the documentation to survive any 2257 investigation, insurance review, or an investor review for a sale. Either way we needed to get a handle on everything we owned. At the time, we had over 3 million images and 400 videos and we had just acquired another library of about 250,000 works that we had not even gone through. The assets were on paper, shoved in file cabinets or in folders and the copyrighted works were on DVD's, compact discs, on hard drives, in chrome format, or on tape.
Why do I share this? I know what a hot mess looks likes. I know what overwhelmed feels like. My path has not been easy. I still today have major bumps in my rode but I know that with a point A, we or you can put a system into play that will work for anyone or anything. I don't have a complete one size fits all for you but I can arm you with a basic plan that you can modify for your work flow.
In my situation, at that time, that is exactly what I did. For us, we built a custom software with inventory tracking. This software served as a central point for all information on a piece of work and a tracking system for where that work was, be it with us or out on a job. To me, the most valuable document this software spit out was a spreadsheet. This spreadsheet still serves as the base document we use today.
Inventory Information System
I'd like to shift gears for a second and share that even if you already have a system working, it's a good idea to review the procedures once a year. Things change. This past year the US Copyright Office introduced significant changes in the way a person or company can file a group registration of certain works. The Copyright Office completed got rid of group registrations for published video which I still have an issue with. For me, these changes required me and my team to review the procedures our clients use to file copyright registrations. We had to teach new methods and overhaul certain procedures that existed. We did it, it took a little time but we got it handled.
Back to the now, what didn't change with client's processes or our own, was the method for how we keep track of work. The basics of this process is what I'm going to share.
The Secret Sauce for Tracking Work
For all of the sophisticated software that exists or could be written, I live off of spreadsheets.
I will share that in 2020 I intend on releasing a tracking software that anyone can use. In the meantime, a good old spreadsheet will get it done just as effectively. CTRL F to find something can work faster than a software's search function.
If you are scared of Spreadsheets, now is a great time to over come that fear. All we are going to do is make and sort columns of information, text. That's it. Simple, not scary.
You are going to want titles for your columns. You can make as many columns as you need to serve your requirements. I will give you some examples of what we implement.
Customize Columns to Your Creative Arts Needs
In addition to our basic columns, if you are a photographer or musician or podcaster or videographer, you may want to add additional columns for certain information. If you are a blogger or course creator you may want certain columns. If you are a news outlet or a company that has a lot of types of content, you may need certain columns. Understanding that, realize that you can add in whatever columns you need to make this work for you. At the core, all of the same basic information should be put on to your spreadsheet.
Tracking Inventory for Podcasts, Blogs, Videos, Music, Patents, Trademarks, etc.
Basic information for an inventory spreadsheet, in my opinion, should be:
Type of content
Registration Number or Case Number
Date of Production
Published or Unpublished
If Published, Date of Release
And a link to a sample of the work.
Depending on what it is you may want two more columns, that being SUBJECT and NOTE.
Here is an example of what the end result looks like once you have populated a work:
Type of content: Photographs
Name of Content: Protest of Uncle Joe Being at the Adult Table, December 25, 2019
Amount: 750
Registration Number or Case Number: 1-12345678
Date of Production: December 25, 2019
Published or Unpublished: Published
Location of First Publication: Blog
If Published, Date of Release: December 25, 2019
And a link to a sample of the work.: https://www.iphqs.com/020
Niche: Family, Dysfunction, Christmas
No matter your need, at any time, this basic information will allow you to handle whatever you need to. That may be an investor review or if you are licensing content, no matter, it's a way to keep track of what you have to offer and what you have in your portfolio. It's just a great tool to have, use, and review.
As an example, if you wanted to put out a new website that features certain stories, you can simply do a sort, and boom you have content to back fill it with or populate on a drip.
It's a true one size fits all…base…point A. You create a Master Spreadsheet of your intellectual property. All of your creative work is accounted for in a series of lines in columns.
Getting Organized by Being Organized
What seems to happen when people use this process is that they quickly get a handle on where their content is, what they have, and they invariably get organized. Now if you don't continue using this spreadsheet by populating it with new information on new work, then you will end up in overwhelmed land again with part of your library organized. It takes less than five minutes to put new information into a sheet.
Once you have this in place here are some suggestions on what you may want to add as additional columns.
Rights Owned: meaning exclusive rights or non-exclusive rights. I talked about that in episode 16 License Agreements.
Model Names or Musician Names; Guest Name if you had a guest on a podcast. I talked about strategies for that in Episode 12, Podcast Strategy.
How to Use the Master Sheet to Hunt Pirates for Infringements on Infringing Sites:
Now if you are searching for infringements all you have to do is save another copy of this MASTER SPREADSHEET.
Call it Master Spreadsheet Infringements January 2020. Open it up and add new column names. I would add:
Infringing URL
Infringing Link
Documented Evidence Title
Location of Documented Evidence Title
Infringing Site Host
DMCA Email 1 Date
DMCA Email 2 Date
Notes
Then as you are surfing and finding infringements, simply drop them in to this spreadsheet where they belong. As you find them, just copy and paste the information as you find it. The link where the infringement is found, goes in the INFRINGING URL Line. If you make a video or PDF of the infringement, record the name of the file you create in the Documented Evidence Title column; Folder location for Location of Documented Evidence Title; if/when you send a Takedown Notice, put the date in the DMCA column; add any substantial notes you need as reminders in the Notes Column.
I think you get the idea.
These sheets can expand or contract for you. Also, if you should ever need to port this information over to an agent or into a software or system, any person can look at this list and know exactly what and where everything is.
I can take a client's spreadsheet and hand it to anyone on our team and without any instruction they can hunt for pirates or identify new business opportunities.
The Reward for Reviewing Your Work
It may be a task at first, but once you get a rhythm, you can get this done quick. It will serve you to assess your world. You may come up with new ideas, give life to a forgotten topic, reengage with emotions that come from looking over your work in a fashion that is not the norm allows you to connect with a why. It can be a relaxing and a wonderful emotional experience. And you get a handle on how much work you have and where it is and what needs to be registered.
Whatever it is for you, please as you set goals for a year, enjoy the first three weeks at a gym, or lay off cookies, I ask that you put real time into the business of organizing the assets of your business. I hope that this information helps you better handle your content and max the potential of your hard work
I'm more than happy to answer questions inside of our FREE Facebook group at Intellectual Property HQ Community.
You can follow me on Twitter @IntelPropHQ
If the podcast episode or the blog post is informative or helpful to you in your endeavors, please subscribe, and share it with your friends. In 2020 it's about supporting others so we can better support ourselves.
Also please take a moment and leave us a five-star review on iTunes.
Happy Hunting!
#copyright #inventory #rights #copyrights #licenses #podcasts #intellectualproperty #influencers #photo #photos #entrepreneurship #writer #video #videos #movie #movies #courses #branding #books #images #art #photography #music #photographer #OnlineEntrepreneur #bloggerlife #blogs #blogger #designer #IPLaw #journalism #news #journalist #author #musicmarketing #digitalstrategy #musicbiz #publishing ‪#contentstrategy #contentcreation #digitalmarketing #marketing intellectualpropertyrights #contentmarketing #socialmedia #writing #tiktok #independentjournalist #content #musictech #musicbusiness #licensing #publisher #musicians #musician #producer #talent #IP #contentstrategy #legal #creator #antipiracy #writers #musicians #musicbusiness #nosmallcreator #smalltuber #publicfigure #YouTube #podcaster #DRM #RightsManagement #management #process #systems