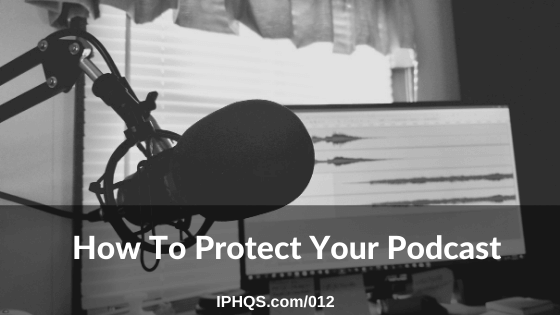 Learn steps that every podcaster should take to protect & more effectively market your podcast content. If you are podcasting, consider incorporating the tools, podcast strategy and best practices discussed in this podcast episode before or after release.
Click HERE to Listen on iTunes
Click HERE to Listen on Google Play
Notes from Episode 012 of The Copyright & Intellectual Property Podcast
I had the pleasure of sitting with a group of Entrepreneurs at LaptopLauras ConnectingSD for San Diego. The host of Corporate School Dropout Podcast, Lauren Allen, posed a question that sent us into an interesting discussion. The discussion was about letting others use your audio and thoughts on how Lauren could handle emails requests she was receiving asking her to push products. I thought that this would be a great opportunity to address two important issues,
✅ Protecting and leveraging content and;
✅ Weighing your opportunities.
I would be remiss if I didn't pitch copyright registration. Your podcast audio is content, just like your blog posts and show notes are all part of your intellectual property portfolio. Whether your podcast is a full-time gig or a hobby, you should still treat it like a serious business and take a few steps to start managing it now. It is never too late to protect your portfolio of work.
You should register your podcasts with the US Copyright Office. Why? In addition to your podcast today you have no idea what use your audio files may have in the future. You don't know what licensing opportunities or cross promotion may exist. That step alone of registering now could make all the difference in a year or five.
If you have a podcast, I think it's awesome that you finally pulled the trigger and took all of the arduous steps to make it happen. I know it's not easy. Our Copyright & Intellectual Property Podcast would not exist if not for the work of my wife Melissa and her team. I have the easy job of writing and talking.
Back to Lauren and her questions. Lauren like many I have met, appears to be a trusting soul who wants to grow her business, she weighs options and wants to take advantage of the opportunities that present themselves. That's smart.
Most in the podcast space are all about sharing and boosting each other.
That is awesome but some are taking advantage of the good nature of others. This is not a fear all pitch…just a simple hey…take an extra step to cover yourself. Lauren was conflicted between what was possible and what didn't feel right. So, with her permission I'll share the situation, my suggestions, and the outcome:
A podcaster approached Lauren asking if she could have raw audio files from a podcast Lauren released. This podcaster/webmaster represented that she wanted to use some of the audio on her site. Lauren was leery about handing over raw files and wasn't sure what to do. I don't blame her. On its face that doesn't seem suspect to most people. There were mixed opinions on what she should do. I chimed in and shared that I think if someone wants to use your audio, let them, but first get written terms so you know what will happen with your content and what you will get for it.
That didn't seem to sit well with everyone in the group.
The handing over of raw audio makes people squirm also some people are not comfortable appearing like they are difficult. It's not about being difficult and an agreement doesn't have to be fancy or complicated.
Consider an Agreement in writing:
✅ The agreement can simply be a list of what can be done with your content and limitations.
✅ It keeps all involved on the same page from the start.
You enter into agreements them all of the time. For example, if you signed up as an affiliate of another's product, you agreed to terms.
If you use promotional materials from someone else, you agreed to how you could use those.
This is really no different except you are setting the rules and it's your content.
As an example: You could simply send over an email that could say I will give you permission to use the audio I provide to you for use in your podcast
in exchange you agree to post a link to my site xyz.com in your show notes
and plug my podcast named XYZ Presents at least three separate times during your podcast.
Then maybe add some limitations with the use. Example:
Permission to use the audio I provide is limited to use in your podcast NAME OF PODCAST.
If you agree, please write back and type agree.
If they write back, I agree, you have an agreement. If you have questions about the legality of this in your location, check with an attorney. I'm not an attorney and this is not legal advice but this works from my experience.
By doing this what have you done? You are potentially allowing your content to be heard mixed in with the content of another to an audience you may not be touching.
You set and agreed to terms that limits use of your raw audio to this other person's podcast.
You created an opportunity for your podcast to get pushed and traffic from the link in the show notes. AND you secured an agreement to all of this in two sentences, in an email. Another way to look at this is that you took smart steps upfront to protect what could happen with your work.
Now if the other person doesn't follow the terms, you can stop it with what I call an electronic lasso. Wrangle it back and shut it down.
Simply send an email that says you are using my content outside of the terms of our agreement and I request you immediately remove the content from your site and anywhere you may have published it. You can also follow up with a DMCA Takedown Notice to the person who did this and to their hosting company. If you need a DMCA Takedown Notice go to the FREE TOOLS tab on intellectualpropertyhq.com and download the FREE DMCA Takedown Notice Template.
And like all of my advice, I recommend you run this by an attorney if you want specifics for your unique situation in your area on the planet.
It's important to lay out the rules you want followed with your content. Its not rude, its not unfamiliar, its smart business.
There is no way I am freely handing over raw audio or video to anyone without knowing what they were going to do with it. That's my work and they will be representing my brand.
Without having a written idea of what the intended use is, you are limiting your ability to stop the use should you need to. Just eliminate the possibility before it's a thing.
This is what I mean when I say value your content and treat it like a business.
In Lauren's case the person came back and said no I won't agree. This makes me think that the other person had other plans with Lauren's audio. Who wouldn't agree to plug the person whose work you are using? That just seems off to me. If you think you know another reason or have something to add or a real-life experience, please join our Facebook community at intellectual property HQ community and let me know because I think this is worthy of a conversation.
2. Getting all of the rights to your content.
If you have a guest on your podcast, consider having them sign a release giving you all rights to the interview audio and/or video. This way you can register and own your copyright free and clear.
This is important because without exclusive rights, the other person will also have rights and they could go do whatever they want with the recording, forever.
Once you have the exclusive rights, people will need your permission to legally use the content.
Part 3 Marketing People were emailing Lauren asking if she would pitch their goods. It's flattering and Lauren was conflicted because she doesn't want to appear to be rude. I can appreciate that. But here is the deal, marketing people are going to come at you because they need traffic for sales. You have traffic.
That doesn't mean every offer is a good one.
And that also doesn't mean you should take a good offer.
If you have a product to sell, then ignore the sales pitches and first push your traffic to your products.
Second push your traffic to those who are also promoting you or something you have used and truly believe in. That is a win-win.
I'm all for making money but it needs to be a good fit.
What sometimes gets lost is what a YES to another product means to you.
You spent time building trust with your audience.
If you send them away you are sending them to a funnel and an experience you don't control.
That's your fan…that's your customer. If something goes wrong that surfer will blame you not the place the went to. They may be upset with that place but you told them to go there.
As an example, if you convert at 1:200 meaning for every 200 people 1 will cause a transaction why send 200 people to a place you don't control?
You can have that company or person that wants you to pitch them build a custom landing page that you can host. This way the customer isn't completely leaving you unless they are buying.
That is one simple way to protect the experience.
Also test the sales experience like a customer so you know what you are getting your listeners into. Treat them the way you really want to be treated not what you say you would allow to happen to you. AND again, promote yourself and your services first.
Before I close out let's do a quick recap:
If someone wants to use your audio let them. But write terms. Have them advertise your site or say your site name at least x times. You want a Link back to you in show notes and ideally where ever its published. Give them a Non-exclusive license to use the content for a specific purpose like a podcast episode or in a story video.
Embrace free advertising…but do it with an Electronic Lasso so you can stop use if you don't like it.
If someone doesn't follow the agreed upon rules you can revoke the license, send a DMCA Takedown Notice to the site operator and their hosting company and end it.
Its your content, it will always be yours. Don't just give it away without terms. Otherwise it stops being yours and that creates areas you can't control. Control your branding.
If you have a guest on your podcast have them sign over all rights to that recording to you. You want all rights forever and throughout the universe in perpetuity.
Don't let me freak you out. This are just simple steps to help you learn how to watch your back. HAVE FUN growing your brand and just know there is always a way to solve an issue.
If you like this please help me out and leave a five-star review and share it with your friends. I think the more we can help each other and learn the more successful we can all be. Also, if you want to be part of the conversation join our Facebook Group at Intellectual Property HQ Community.
Thank you for listening.
Happy Hunting.
#podcast #podcasting #branding #business #copyright #course #courses #dmca #education #entrepreneur #entrepreneurship #guide #how #influencers #intellectualproperty #intellectualpropertyrights #licensing #piracy #share #stepbystep #success #takedown #writer #journalism #news #journalist #author #OnlineEntrepreneur #workfromhomelife #bloggerlife #podcasthost #blogs #IPLaw #contentmarketing #contentstrategy #marketing #digitalstrategy