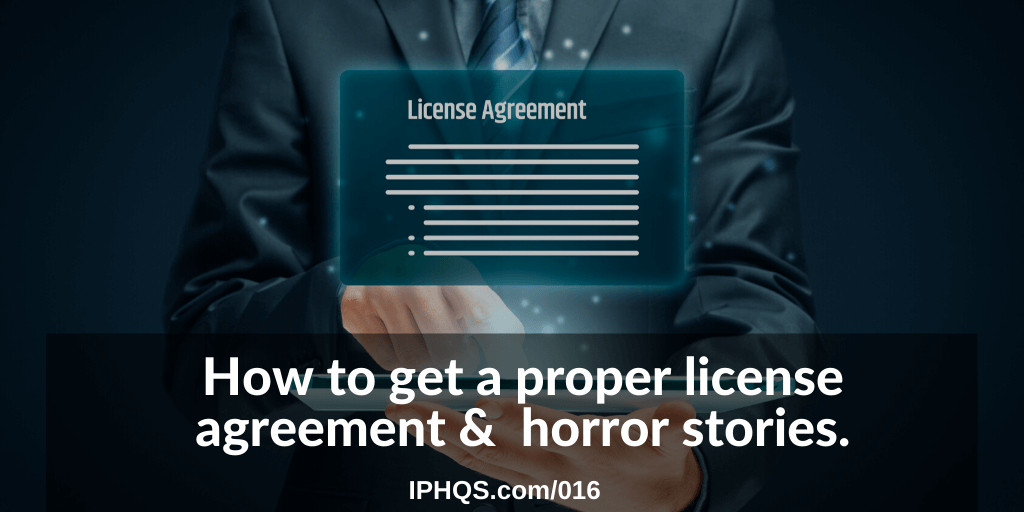 On this episode of The Copyright & Intellectual Property Podcast become familiar with terminology in licensing agreements; Learn to see pitfalls as you are moving through the business of licensing videos, movies, photographs, brand names, trademark, patented product or any licensed item or service; Hear why you should read agreements; Learn how get a proper contract in the first place; We discuss "boiler plate" language; Hear real life horrors stories, a result of not knowing terms or from a sneaky insert; Learn how to get what you want.
Click HERE to Listen on iTunes
Click HERE to Listen on Google Play
The Back Injury:
I am sorry for not delivering an episode for two weeks. I made a newbie mistake by not having episodes on standby in case of an emergency. I have two herniated discs in my lower back that are pinching nerves causing pain down both sides of my left leg and the muscles are in spasm. I have never been in such sustain pain in my life.
I have never been in such sustain pain in my life. It has been horrific. Melissa has been an amazing support as I have been useless.
Thank you for your understanding.
Podcast Episode Suggestion:
A listener, client, and friend Ford Fisher from News2Share sent me a text that read, "I've been listening to your podcast and really like it. It seems mostly about pirates and also that was a good one recently on audio misuse. A suggested topic: how to read and get a proper contract in the first place."
Great idea Ford! Let's jump in.
Licensing Agreements:
A licensing agreement is exactly that, an agreement, a contract between parties. Typically, there are two parties, they can be more. The Licensor, meaning the person or entity granting something and the Licensee, the person or entity who is receiving the right to use or do something.
In our main work, licenses typically grant rights to use to video, images, brand names, trademarks, or patented technology.
In exchange for a license, the Licensee pays a fee more often than not called a payment or royalty depending on how the license is structured and what it's for meaning one-time payment or flat rate monthly payments, or payments based on number of views or downloads, whatever, it can be any combination.
Typically, a license allows a party exclusive or non-exclusive use.
Exclusive meaning the Licensee is the only one who can do anything with the content or rights they are licensing.
Non-Exclusive meaning, they can use it and so can anyone else you as the owner grant a license to.
These are the typical basic elements of who and what.
This is a good place to again share that I am not an attorney, though I do want to share what I see and what I think you may want to be aware of because of the problems I have seen around certain licensing issues and our clients see.
The biggest issue we see are licenses changed without one party sharing the change with the other party.
Here is my public service announcement, find an attorney who won't break your piggy bank to review agreements before you sign them. I would also suggest that you tell everyone that works for you to never agree to any agreement unless you authorize it. Just eliminate the liability so that you don't become a horror story.
Make sure whatever agreement you are signing has the terms you agreed to clearly outlined.
It is important that you understand what is written. If you don't understand certain language get your own counsel, ideally someone who does not work with the other side to explain it to you. If you cannot afford that tell the other side you don't understand what they wrote and you want clear language that you do understand in that place.
Do not be embarrassed or allow another to try and embarrass you because you don't understand certain language. Some legal language is just confusing.
It's important because one misstep and you and your portfolio, your hard work could be jeopardized in ways you never thought of.
Here is what I mean and how that shows up. I am not suggesting that what could be construed as sneaky in nature is always the case because through a series of whatever it does happen by mistake.
Language changes also happen because someone wants to be sneaky.
No matter the reason YOU still need to read every license agreement or better yet, have your attorney read every license agreement before you sign it. It is worth repeating sneaky or not, one misstep and you could be a world of hurt around your ability to do anything with a particular piece of your IP library.
Story time:
Horror Story 1: The Web Designer Gets All Rights to Movies
The craziest story I have heard lately was from a producer of movies who has a successful company and is in a hot mess. This producer hired a web design company to just make their website or so they thought. The agreement was an online agreement. One of this producers' employees, as an authorized agent of the company, digitally signed the online agreement for what they thought were simply web services.
What did not happen was having the employee or the producer or better yet their attorney carefully read this online agreement before anyone clicked on agreed, accepted, and digitally signed.
This web company did dirty, sneaky shit. They buried language in the agreement that gave the design company the right to use any work they touched in this producer's library. Let me be clear, not just use for the company website, any use, for any content they touched. In the making of the website, they made a point of touching it all. So, according to the agreement, they can do anything they want with that content.
Ponder that level of BS for a few seconds. Holy shit right. Yeah.
The web services company now has the right to sell, license, and exploit any of that content from this producer's library and they are doing exactly that and making money doing it.
This is about to be a lawsuit.
That is not a new trick.
Horror Story 2 (Caught): A Company Was Using Content & Trying to Cover Up
In the same vein we have a client who caught something like this. When their employee went to check their royalty stats online there was a page that came up first. The page said we have updated our terms, please click agree and digitally sign below to continue. Smartly, the employee who saw this stopped, did nothing, and told his boss. That agreement if he would have accepted it would have granted the ability to again do whatever with the content that already fell under their previous agreement.
Having correct Spidey senses, our client asked us to go fish and it turns out that even though our guy didn't agree, that company had been using the content outside of the terms of the original agreement they had with our client. They were trying to make what they had been doing outside of the scope of the deal, part of the deal to cover their ass. The result of this situation is currently an aggressive, active lawsuit that has been going on for years now in two countries.
A client had this situation come up with a client whom they license content to weekly.
In todays world as I am sure you know; digital deals are regularly on the fly. This is not uncommon. News Photographers have been operating like this for years. I would suggest that with the internet and new distribution systems other types of content, producers are dealing more licenses than ever.
Horror Story 3 (Caught): Language Change Almost Granted Exclusive Rights
The client sent off what they call a common client license and the licensee Company sent an "updated version" of their licensing agreement for him to use saying it was a "procedural update and to start using that one."
I will quote the companies President, "I read it and indeed they had subtly switched the terms from non-exclusive to exclusive! I messaged them and they basically said "oops here's the non-exclusive one."
If he would not have taken that extra step that content and potentially other content would have been unusable by our client going forward.
Imagine this. If they wouldn't have caught it and continued licensing that content, they could be liable for damages and wide open to a lawsuit.
Boiler Plate Language:
"Boilerplate" language allows certain industry specific agreements to read the same way. Boiler plate can mean standard industry accepted language. Because we get used to seeing boiler plate language, it can be easy to sneak new language in between that, and those changes can completely change the terms.
With the distribution vehicles that are available to us, in this moment in time, that could be the millions of fans on Instagram, Twitter, TikTok, Facebook, Spotify, etc. term-based boiler plate language needs to be reviewed more often.
The buyer of Taylor Swifts original catalog is learning that lesson. I won't go into the now solved dispute regarding Taylor Swift, but Eriq Gardner from the Hollywood Reporter with quotes from the brilliant IP/Entertainment Attorney Mark Jaffe intimated how boiler plate language will be an issue if not reviewed. There is a link to the article in the show notes. Eriq did a wonderful job summarizing what could be highly confusing.
Read: Taylor Swift vs. Scooter Braun and the Imminent Rerecording War
The end of the story is that Swift can rerecord songs like "Shake It Off" in 2020.  Historically the music business never payed much attention to the boiler plate language that granted the artist these rights after a five-year period. The industry didn't pay attention to it because they never figured an Artist would pay for a recording and communicate with enough fans to make it financially viable. Remember up until recently, record companies had the deals with record stores. Labels never gave much attention to the possibility that they could minimized in the distribution process by a name artist. No one anticipated that one person could click a button and talk to millions of fans.
Everything that seems normal is still relatively new. It wasn't until Live Nation came on the scene that partnering or licensing the right to produce live shows with an artist for a music tour was even viable. Live Nation goes into partnership with an artist or band for their tour. Before Live Nation, labels would control this experience and bill the artist all the way. Live Nation said hey screw that, we will front money and together with the artist we and they can make real deserved money. I think as a result, taking the number of shows into account, concerts and festivals are now cooler than ever and the artist is more incentivized to put on a kick ass show.
Since we are on boiler plate, I will share one last example of a huge hanging issue that is a direct result of boiler plate language. To the best of my knowledge this hasn't been dealt with yet. I don't know if anyone has even noticed it.
Back in 1996, 97, 98, 99 the Internet was a mysterious "thing" to many people. At the time the American Film Marketing Association which in 2004 was renamed Independent Film & Television Alliance (IFTA) provided the boiler plate licensing agreement that almost everyone in the film and tv industry used to do licensing deals. It made it easy. You simply agreed to an amount, time, specific rights, fill in blank lines and everyone could sign, sometimes right in a hotel room in Cannes or Italy, or Santa Monica, California where major events like the Cannes Film Festival and American Film Market were taking place.
During that time some licensed rights to a work for a termed period say 7 years at which time the rights would revert back to the owner and again could be licensed out to another. I did many deals where the boiler plate language (if I am remembering this right) read, "all exclusive rights in and to the work, forever and throughout the universe in perpetuity." Then there was boiler plate that included something like including TV, satellite, cable, Pay Per View, and wait for it…Internet. In English this means there are companies that forever have the exclusive rights to broadcast certain films and tv shows on the internet for Germany, Japan, the UK, Italy, France, you get the idea. This means anyone that is serving content into those countries is violating this distributors rights. It hasn't been until this last year, that blocking has even become a functional technology and even now, its not a perfect technology. Perfect or not, interfering with the rights of another in many parts of the world exposes the infringer to liability.
In simple English, Netflix may have a license for a film that was already licensed exclusively to another in another country for another country. If that is the case, unbeknownst to them, they are violating the licensing agreement of another. Wild right.
TAKE AWAY POINTS:
As we wrap this episode up a few items to remember:
Agreements should not be scary. You have something and someone wants to pay you for it under specific terms. That's about it. Cool.
Language can change at any time. Even when getting past back and forth. Please remember to review every version before you sign any deal.
If you don't understand any language ask someone not connected to the other side for support in understanding. If not, ask the party you are negotiating with to change the language to language you understand. Don't be embarrassed to share that you don't understand. Your job is to create not write agreements. Language can get complicated. Sometimes on purpose. Whoever wants to license your work, wants your work so I imagine they should want to support you in getting clear.
Check to make sure the deal matches your main terms specifically if its non- exclusive or exclusive.
From my experience typically it's not a good idea to let employees sign on your behalf. They may be cool with you today but tomorrow you never know.
Its your content, you don't have to do all of the licensing work but you at least need to be the person who knows the elements and signs the deals.
Don't become another horror story.
Celebrate that you are licensing your hard work. How awesome is that!
I hope that this information helps you protect your content. I'm more than happy to answer questions inside of our FREE Intellectual Property HQ Community Facebook Group.
If the podcast episode was informative or helpful to you in your endeavors, please take a moment and leave us a five-star review on iTunes.
If you have already gifted me with your review, I truly appreciate you. The kind words and reinforcement that we are providing a useful message is fuel for me to do more. We launched Intellectual Property HQ and this podcast to teach, so hearing that we are, fills me up. Thank you.
Happy Hunting!