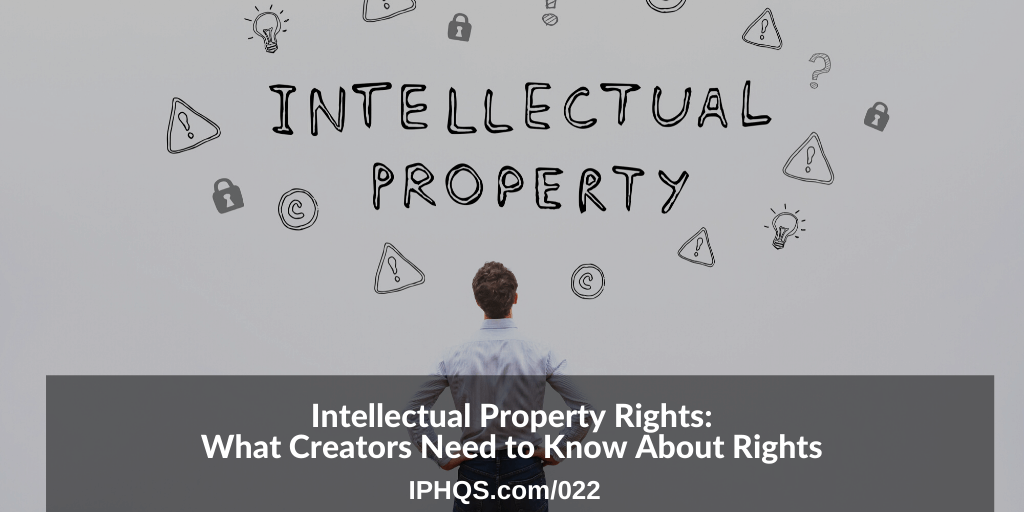 When you create a work, it's your work. In this episode we talk intellectual property rights, typical copyright issues & bust internet myths around intellectual property. That work could be a book, a song, a photograph, a picture, a drawing, a video, a course, software, an invention, a brand name, you get the idea. In most instances, at creation, you own 100% of the rights and intellectual property rights are powerful.
Click HERE to Listen on iTunes
Click HERE to Listen on Google Play
✅ What publishers need to know before filing for a copyright registration.
✅ When a work is published.
✅ Do you give up ownership by uploading to YouTube, Facebook, or Twitter?
✅ When do you lose or give up rights?
✅ What to know about 'Fair Use' & ownership rights.
✅ Why thinking free could get you sued.
✅ What to know about rights before GOING BIG & more…
There are instances where you can create a work and not own the rights. If someone paid you to do that work and you agreed to give that person all ownership then under most circumstances it's not your work. That is called a 'work for hire'. This podcast episode is not about 'work for hire'.
This podcast episode IS about you and your work, that you created for you, and your ownership and rights in and to that work.
There are rare instances where what I am about to share could be different. It would require lawsuits to change it. Since most listeners won't have these issues, we are not playing the 'what if' game.
We are talking about your Intellectual Property Rights. How do you get an intellectual property right? Create something. When you create a work in a fixed medium you have created intellectual property. That intellectual property typically falls into a copyright or a trademark, and when you invent a new process, a patent.
Your Intellectual Property Rights cannot be taken away unless you agree to give them up. They are your rights.
👉1st, REGISTER YOUR COPYRIGHT
Now that you have all of these awesome rights, the first step to protecting those valuable rights is registering the work with the US Copyright Office. A registration gives you options. A registration provides proof of ownership.
If you have questions about what a copyright is or registration or want more information listen to or read the show notes to Episode 11, "Understanding Copyrights: IP Facts vs Copyright Myths."
A large benefit to registration is being able to use the court system. A work must be registered with the US Copyright Office before you can sue for copyright infringement. You may never file a lawsuit but why take the option off the table?
You are entitled to what is called actual damages or, if you file for a registration within the first 90 days of first publication should you sue, you could receive up to $150,000 per registration and be awarded attorney's fees if you win.
A registered library of Intellectual Property Rights, your work is worth substantially more than an unregistered library.
Is it worth it? Are you worth it? I would suggest yes, your legacy is worth it. You are worth the $55 and 15-30 minutes to get it handled.
Kim Kardashian sued a makeup app company for $10,000,000. The crime, using her image in association with their product without a license. Kim is suing for actual damages. She and her team are clear about the value of her work.
👉 WHAT DO PUBLISHERS NEED TO KNOW BEFORE YOU FILE FOR A COPYRIGHT REGISTRATION?
HOW TO COPYRIGHT A BOOK IN SIX EASY STEPS
Laura Petersen from Copy That Pops asked these questions,
Before you file for a registration, you need to QC a few items.
Does the book contain quotes from another or excerpts from another work that you do not own or have a license for?
If you have quotes from say Napoleon Hill or Tony Robbins or Gary Vee will this affect the registration. It could but the easy fix is to EXCLUDE that work when you file for a registration. You still file for a registration and claim ownership over your work but you have to acknowledge that the work also contains work that is not your work. That can sound complicated but all it requires is for you to check a box.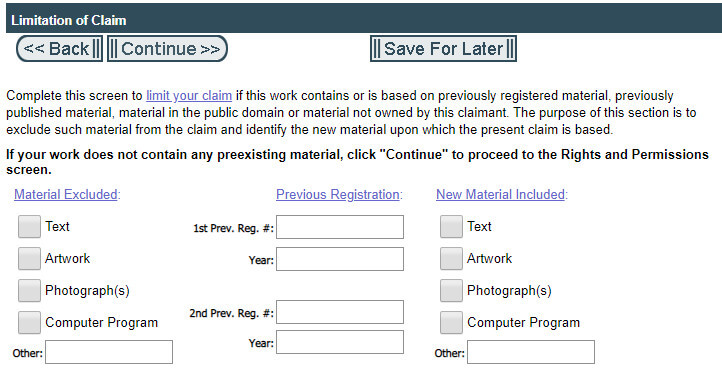 When you are filing with the US Copyright Office the sixth section in is called "Limitation of Claim." In bold letters it reads, "If your work does not contain any preexisting material, click "Continue" to proceed to the Rights and Permissions screen."
In your case it does contain preexisting material so simply check what material you are excluding. The choices are Text, Artwork, Photograph, Computer Program, or other. Check one and click continue, it's just that simple.
Does the book contain images that you do not own or have a license for?
In my opinion, if you have images that are not yours, get a license to use the images. If not, license similar images, or get rid of those images. If you leave them in, you could be potentially held liable for copyright infringement. Is it worth it? In today's market there are so many to ways to access databases of images you can license.
Can I use another companies' logo in an example?
This question came from our Facebook Group, Intellectual Property HQ Community. One of our members is creating a 'how to' guide and wanted to know if using logos, intellectual property rights, from companies like Facebook™ or TikTok™ on a cover would be ok.
The answer in my opinion as it was with attorneys in the group, its never a good idea to use logos you do not own. The discussion shared that your use of a logo is likely cause confusion and that is a big barometer for whether or not you are committing trademark infringement. If you are using a company logo on a cover or in a prominent way in your material you should expect to be served with a cease and desist letter or sued for trademark infringement. Now, it was made clear that you can use their name if you are making a factual statement. An example could be, Ten Steps to Create a 100K Person Facebook Group.
If it were me, I would steer clear of logos and have a disclaimer that says that you are not affiliated with that company.
Just do what you can to avoid big issues while still getting your work out to the masses.
👉 WHEN IS MY WORK PUBLISHED?
As it relates to copyrights that being your book, your song, photograph, picture, drawing, video, course, software…once you make that work available for download, distribution, or non-streamed viewing, it has been published.
Another way to say that is when you start selling or giving your book away on Amazon, you published your book.
If you make a video or movie and you make that video or movie available for download, be it on your site, or sold on DVDs, or in a theater, or you uploaded it to display on Facebook, or YouTube, you published that video or movie.
If you take a picture and offload the SD card to your desktop, that photograph is not published.
Until you release that work in one of those downloadable settings (downloadable would also include printed and distributed) it has not been published. If you are writing your book and you're are passing that book file back and forth for notes it's not published.
Once you make it public, even if behind a password protected wall, THEN it has been published.
There are instances when a intellectual property could be released to the public and still not be published. I hope that sentence didn't create whiplash. Hear me out.
I have clients who live-stream some or all of their work. I have news outlets that live stream events and I work with live cam companies and Cam Models who offer live streams for free and for payment. They each stream their work through various platforms. The live platforms include YouTube, Facebook, Twitch, and every major live cam network on the planet.
What happens is that infringers of intellectual property rights will use a technology to record the live stream and turn that recording into a downloadable video file. Then what happens is that same person or company will upload that video file onto a location where they can make money from it. That example is willful copyright infringement and we deal with it. As it relates to this, its interesting to me because it poses a unique situation. That unique situation is that the work is not published. Even though that work could be sitting on a site getting downloaded thousands of times a minute it has not been published. The creator of the work did not intend for that work to be anything but live streamed. Streamed work that is not intended to be made into a fixed medium is not published. Just because an infringer of intellectual property rights made it so does not make it published.
Ok…moving on…
👉 DID YOU GIVE UP OWNERSHIP BY UPLOADING TO YOUTUBE, FACEBOOK, TWITTER?
The answer is no you did not. What you did was grant YouTube, Facebook, and Twitter a license to display the work for you. YouTube, Facebook, and Twitter are Internet Service Providers. While on topic, so is Amazon, Udemy, Teachable, and really any platform whose sole job is to carry the work for you. None of the companies I listed out are responsible for the work or the subject matter of the work. Their only job is to make the work YOU put on their network available to view and share.
You did not give up ANY intellectual property rights.
You did not give up ANY ownership in or to your intellectual property rights.
YOU DONT GIVE UP ANY RIGHTS WHEN YOU UPLOAD.
In the act of uploading the work to their network, at no time, do you give up, any rights to the work. In this moment, you still own 100% of ownership and 100% of the rights.
All you did was grant a non-exclusive license to them so that they can display the content for you. That's it. They cannot sell it without your permission, they cannot sell any rights to anyone.
👉 WHEN DO I LOSE OR GIVE UP RIGHTS?
When you choose to give up rights. Typically, rights are conveyed via an agreement. Rights fall in one of two buckets, either, exclusive or non-exclusive.
You may want to take a Listen to Episode 16, "How to get a proper license agreement, learn terminology, & hear horror stories." If you are going to start licensing rights, it's a good podcast point A.
Bucket A: Exclusive meaning the Licensee (the person or entity that you are giving all rights to) is the only one who can do anything with the content within the parameters you agreed to.
Bucket B: Non-Exclusive meaning they can use it within the parameters you agreed to and so can anyone else you as the owner grant a license to.
To tie this together.
You grant Amazon a limited license to display and sell that book for you.
You grant YouTube a non-exclusive right to display your video.
You grant Facebook a non-exclusive license to display your family photograph.
You may grant Netflix an exclusive broadcast license for a period of time for your movie.
👉 FAIR USE & OWNERSHIP RIGHTS:
Fair use is a commonly used term and its highly misunderstood, and can be complicated to determine. It's hard to determine because 'Fair Use' is nothing more than a defense to an infringement claim.
A simple example of fair use is when you share a post a friend makes on Facebook.
I would suggest that it's a waste of time to argue about fair use. If you want to see how much time is wasted arguing this point, go check out and drill into the #fairuse hashtag on Twitter. Why is it waste of time to argue about fair use?
Again, Fair use is simply a defense to an infringement claim. There is no special card granted for all times. So, unless someone is suing you or you are suing someone else for infringement, typing fair use is a waste of key strokes.
The questions you should ask yourself are,
Could this be fair use?
Am I prepared to sue them if they don't take my work down after I send a takedown notice?
If the answer is, I am not going to sue them, well then, no need to keep talking at that point.
👉 THINKING FREE, FREE, FREE COULD BUY YOU A LAWSUIT
There are a vocal group of people who have a warped sense of what 'Fair Use' SHOULD BE and they like sharing it with the rest of the internet.
I've received DM's on Twitter, Skype, and other sources from some confused people. Their level of confusion and frustration is projected with, let's say high emotion and colorful language. The latest I got was informing that I was totally wrong because "once you upload anything onto the internet, it's free."
Hear that. Some believe that if you upload content on to the internet then its FREE for all to use that content. Some believe that if they find content on the internet, they do NOT have to get a license from the owner (any permission) or pay for use.
That is simply not true. Not even a little bit true.
If you take and use someone else's content, especially in association with your work, without permission, it is highly probable that you are committing copyright infringement. To say it another way, if someone takes YOUR content and uses it without your permission there is a strong chance, they could be committing copyright infringement.
👉 CAN YOU INFRINGE ON YOUR OWN COPYRIGHT?
Yes, you can. Here is how. If you grant someone EXCLUSIVE Rights through a license agreement and then you go use the work you could be held liable for copyright infringement. By granting someone exclusive intellectual property right's, you have given them THE exclusive right to use that work.
There are a few instances where you can grant an exclusive right and use the work but if that is your intention, I would suggest listing that intention in any agreement you put together with the other party. Just be smart and safe.
👉 SUMMARY:
In closing, your intellectual property rights are your rights and you control them.
Register your work as soon as you can with the US Copyright Office for added protection.
Uploading to the internet does not require you to give up ownership.
If you are using work from another, give them credit.
If you want to avoid getting shut down or sued or both, license work if another work is going to be in association with your work, especially if its images.
Go big, release your work, just take a few extra steps and ask yourself the questions in this podcast (they are in the show notes).
I hope that this helps you as you continue to create and publish your work. Listen to our other podcast episodes for additional tips and tools to support you.
If you have questions or want to share experiences, you can join and post inside of our FREE Facebook group at Intellectual Property HQ Community.
You can follow me on Twitter @IntelPropHQ
If the podcast episode or the blog post is informative or helpful to you in your endeavors, please subscribe, and share it with your friends.
Also please take a moment and leave us a five-star review on iTunes.
Happy Hunting!
#copyright #rights #copyrights #copyrighted #fairuse #digitalmarketing #licenses #podcast #intellectualproperty #influencers #photography #entrepreneurship #selfpublish #writer #video #movie #courses #branding #books #images #art #photography #music #photographer #OnlineEntrepreneur #bloggerlife #blogs #designer #IPLaw #journalism #news #journalist #author #musicmarketing #digitalstrategy #musicbiz #publishing ‪#contentstrategy #contentcreation #marketing #intellectualpropertyrights #contentmarketing‬ #socialmedia #writing #tiktok #independentjournalist #content #musictech #musicbusiness #licensing #publisher #musicians #musician #producer #talent #IP #contentstrategy #legal #creator #antipiracy #writers #musicians #videos #musicbusiness #blogger #podcasts #photo #photos #movies #nosmallcreator #smalltuber #podcaster #guide #business #success #storytelling #personaldevelopment #culture #tiktok #influencer