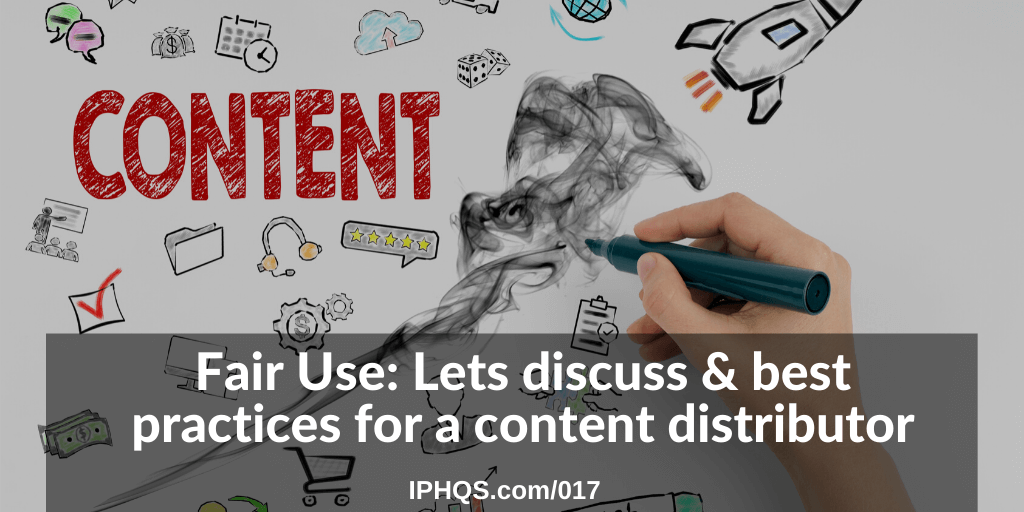 On this episode of the Copyright & Intellectual Property Podcast, my goal is to get you thinking about liability & how you can use some good neighbor practices to avoid what can quickly become costly errors in judgment.
Click HERE to Listen on iTunes
Click HERE to Listen on Google Play
In this episode we are going to discuss best practices to consider before using a work you do not own. You may think your use is "fair use" but remember, fair use is a potential defense to a copyright infringement claim. A US Federal Judge decides. Not your attorney and not you.
I really don't like hearing, well its 'fair use' associated with a commercial work. Meaning someone is making money from that work and not paying the owner of content that contributed to that new work. If you are using content you do not own, to quote the Hunger Games, "may the odds be ever in your favor."
Before I start sharing stories and getting elevated, lets discuss what that term fair use means and what is currently required to qualify, maybe.
If you leave before the end, ask yourself this question. Be honest with yourself.
If someone took content you created & used it in another work, would you want to be compensated?
If the answer is yes, pay attention and also realize that the work you incorporated into your intellectual property work was created by someone and they too want to be compensated.
We will be out of what sounds like legalize shortly. I think it's important to hear this to at least have a general understanding of the certain terms and what may fall under fair use.
To will quote the US Copyright office, "Fair use is a legal doctrine that promotes freedom of expression by permitting the unlicensed use of copyright-protected works in certain circumstances. Section 107 of the Copyright Act provides the statutory framework for determining whether something is a fair use and identifies certain types of uses—such as criticism, comment, news reporting, teaching, scholarship, and research—as examples of activities that may qualify as fair use."
Copyright Office continues with, "Transformative uses are those that add something new, with a further purpose or different character, and do not substitute for the original use of the work."
Parody is considered fair use. This is how SNL gets to do what they do.
There are four factors that serve as guidelines. It is really important to know that all court cases are looked at individually. I can tell you with certainty that cases, though they may be similar, rarely match up with the exact same elements. So, what worked before may not work for you.
The four factors are:
the purpose and character of your use. i.e. transformative
the nature of the copyrighted work
the amount of the portion taken, and
the effect of the use upon the potential market.
We are on the home stretch of legalese use.
In 1994 the US Supreme court in Campbell v. Acuff-Rose Music Inc, held that when the purpose of the use is transformative, this makes the first factor more likely to favor fair use.
Meaning is your use transformative?
Has the material you took been transformed by adding new meaning or expression?
Was value added to the original by creating new information, insights, and understandings?
With those questions in mind and all of that being said, IF you are using the work of another and you do not have a license or any permissions or rights, unless you are an educational institution, in my opinion, you are simply playing with fire.
From my point of view, there is a frightening level of copyright infringement hiding behind what producers think is a fair use argument. This applies to any content producer or distributor of any content. This includes courses, books, blogs, videos, pictorials, movies, etc.
If you take the work, cut it, and edit it into your work, or use it to create what may be a new work, give no credit or some credit, sell it or market it for sale, I believe, in most instances, you are committing copyright infringement. Though I am not the decider.
That is not a popular opinion in entertainment circles.
There are several attorneys who have used their published untested opinion on this matter to market themselves to filmmakers; especially documentary filmmakers. There is nothing wrong with that. I think they quite smartly positioned themselves. What I think is the misstep is that I don't believe that tell their clients that they may be open to a claim. Their opinion has never, from my understanding, been tested in a US Federal Courtroom.
I also believe that in today's market, "documentary" is a broad term. Just because you are making a "documentary" doesn't give you license to freely take and use content. This also applies to music producers, writers, and creators of any content that may use content from another.
Let's dispel another belief some have. Just because you find a work on the internet doesn't mean you can just use it. It doesn't mean that its fair use. It doesn't mean it's in the public domain. In fact, someone made it and someone owns it.
To be clear, I found it on the internet or I pulled it from YouTube is not an excuse or a license to use the work.
Disclaimer: I do not believe all documentarians use unlicensed footage. Many follow the rules and are good neighbors.
Though earlier this year we had a situation that provides a good example:
A movie was made and premiered at a major film festival. The filmmakers called it a "documentary." Certain distribution was purchased by a major distributor. This distributor did license deals that included distribution on pay per view, DVD, and other methods.
This movie contained a substantial amount of footage from a client of ours. They did not credit our client. Credit is important. In many instances it is advertisement for a company that provides footage. It is also respectful to acknowledge the company or person who produced the original work you are using.
I had a relationship with the distributor. They provided me the contact information for the production company. We emailed one of the producers and we had a friendly exchange and then phone call. They thought they, "would be fine."
I don't completely disagree with that thought process. It is easy to hide footage in a movie or TV Show or other programming. Think about how many movies and I'm lumping documentaries into that pile that are produced in a year. Huge number. It's easy to ask yourself, what are the chances of getting caught by someone who has their ducks in a row? Answer: Pretty slim.
It is rare for a content producer to pop up and make a claim.
It is rare for a content producer to have a claim with the potential to be awarded statutory damages and attorney's' fees.
It is rare for that content owner to have the means to go the distance. Meaning funds to sue if need be.
Why?
Number 1: Many content producers don't register their work with the copyright office. This is a pre requisite to filing a US copyright infringement claim.
The simple fact that this is still so rare is wrong.
You have heard me talk about this in other podcasts. If you have a registration, you have teeth. If you don't and you file for a registration after you have discovered the infringement, you are subject to actual damages and no chance of being awarded attorney's fees. This means any representation you make to the other side, will know that you can only push so hard.
If your work is properly registered and they see they are potentially exposed to statutory damages up to $150,000 plus attorney's fees you are probably going to get a different response.
The end of the story was the producer paid an agreed upon amount to settle the claim. I have many other examples from this year alone.
Don't just rely on industry experts or attorneys in this area unless they agree to represent you in a claim free of charge and pay any judgement. Try that and see how fast they talk about exposure and back pedal. I don't say this to poke attorneys or you. I say this in an attempt to get you to think about taking the extra step of licensing content you use in your work.
You may be thinking well what if I can't figure it out? That is possible but more often than not you can. If there is a watermark it connects to someone. If you found content chances are there is a search you can do or a click you can make that will lead you to an email or a Twitter account you can DM or a Facebook page you can send a message to. At the very least try, this way if someone does show up, you can honestly tell them you tried and explain how. This may help you.
Unless you are an educational institution, I would suggest that you take the time to clear all work you bring into your new work.
Some may be thinking wait, I run a news agency I am covered. Again, maybe you are. If you are posting work on a website with advertising and/or charging people to access the content, you are commercializing the work. That, in my opinion, changes the game. You may be reporting news, but you are getting paid. Pay the owner of the work your using.
Otherwise, it can be an expensive lesson. In the last year alone Katy Perry, Jay-Z, Robin Thicke, Pharrell, and others in the music industry have about 15 million in judgments.
The crazy thing about all of the claims is in those cases is I don't truly think it was intentional by the artists. If you look at how songs are made today, it's a group effort. This happens in all areas of content creation.
Its possible someone in the group was influenced by another's music and brought that to the party. How can you solve that? Clear the rights.
This year alone we have settled over ten news related claims. I don't know how many documentaries. Also, well over 50,000 infringements on sites who appropriated video for their commercial use.
I could go on with more stories but they all basically sound the same so here is your take away…
When you rip content from a location, never attempt to contact the owner, and commercialize your product that you made, that contains the work of another, you…are…asking…for…trouble.
When the owner or their representative calls that person out and they claim 'fair use' after they made money with someone else's content, chances are, they are full of shit.
I have said it before, be a good online citizen. Be a good actor. It is not that expensive to do it and it's a lot cheaper than paying for a claim later.
If you are going to make money from someone else's work, do the right thing upfront.
I hope that this information helps you better protect your content. I'm more than happy to answer questions inside of our FREE Intellectual Property HQ Community Facebook Group.
If the podcast episode was informative or helpful to you in your endeavors, please take a moment and leave us a five-star review on iTunes.
Happy Hunting!
#copyright #fairuse #licenses #podcast #intellectualproperty #influencers #photo #entrepreneurship #writer #video #movie #courses #branding #books #images #art #photography #music #photographer #OnlineEntrepreneur #bloggerlife #blogs #designer #IPLaw #journalism #news #journalist #author #musicmarketing #digitalstrategy #musicbiz #publishing ‪#contentstrategy #contentcreation #digitalmarketing #marketing #intellectualpropertyrights #contentmarketing‬ #socialmedia #writing #tiktok #independentjournalist #content #musictech #musicbusiness #licensing #publisher #musicians #musician #producer #talent #IP #contentstrategy #legal #creator #antipiracy #writers #musicians #videos #musicbusiness #blogger