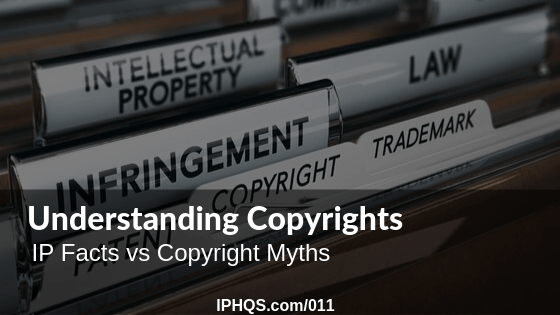 Summary: Understand copyrights and your intellectual property library. We debunk copyright myths with practical information. Learn how to get something copyrighted, meaning registered. How to report a website for using content without a license be it a blog, song, art, photograph, podcast, video…any content. How to protect your content. How to manage piracy.
Click HERE to Listen on iTunes
Click HERE to Listen on Google Play
Notes from Episode 011 of The Copyright & Intellectual Property Podcast
It is important to register your copyrights simply because if you ever want to properly defend your rights in a US Court, you need registrations from the US Copyright Office. If you ever want to sell your company for a considerable amount of money, you want registrations. If you are wondering if your empire is worth it…
…when companies are sold, the intellectual property portfolio or IP portfolio can be a considerable piece of the valuation. Not having any or timely registrations can garner you a lower valuation. A company's value can be set by various factors, including the enforcement rights.
Even if you are never going to take any action past sending take down notices, there is still value in registrations. Perception is often another's reality. If a pirate looks up your work and sees there are valid copyright registrations, they can see there is exposure to considerable damages. This can have an effect when you are addressing unlicensed work (piracy).
Getty Images is a great example of why you want copyright registrations.
Getty Images is one the largest holder of intellectual property rights to images on the planet. You may know of Getty Images because you have seen their name in movie credits. Maybe you received a monetary demand letter from Getty for an image you used without permission? As a result of licensing content and having registrations, Getty Images has a market valuation of three billion dollars.
I would suggest that it's not just because of the fact that the valuation is not because they a lot of images. They have rights of enforcement. Also, people know or learn quickly that when they get a letter from Getty, they're pretty serious. When a company with a perceived valuation of three billion dollar wants to have a conversation with you, you take that a little more serious than if you look it up and you go oh this is x y z company and nothing is registered.
As another example, Bill Gates owned Corbis. Corbis was a rival to Getty Images. In 2016, Gates sold Corbis to Visual China Group who immediately did a deal with Getty Images. Did they buy pictures? No, they bought intellectual property rights that are came with the pictures.
What is a Trademark?
A brand name or a unique phrase or logo is a trade-mark, trademark. A trademark or service mark includes any word, name, symbol, device, or any combination, used or intended to be used to identify and distinguish the goods/services of one seller or provider from those of others, and to indicate the source of the goods/services.
What is a copyright?
A copyright is a form of intellectual property law that protects original works of authorship including literary, dramatic, musical, and artistic works, such as poetry, novels, movies, songs, computer software, and architecture.
You can assign a right to the work except the right of enforcement is exclusive to the copyright owner. You cannot assign your rights of enforcement.
Copyright law doesn't protect ideas or procedures or methods or processes or concepts or things of that nature because those fall under patents. Patents are governed by the United States Patent and Trademark Office (USPTO).
When do I have ownership to a copyright?
Simply, when you create a work or buy the rights to the copyrighted work of another. If I take out a sheet of paper and I doodle something on it, in simple terms, I own the copyright. A copyright registration affords protection under the law. It is also proof that the work is yours and it provides a record of when it was created. The exception to this rule, is if the work was made-for-hire, meaning, in basic terms, someone paid you for the work.
What does copyright law not protect?
Copyright law doesn't protect ideas or procedures or methods or processes or concepts or things of that nature because those fall under patents. Patents are governed by the United States Patent and Trademark Office (USPTO).
Pro Tip:
If you are hiring someone to create a work for you or you're working as a ghost writer or creating for another, have the other party sign all rights to a work over to you or vice versa. If your rights are not clear, you could lose a lawsuit.
Who can claim a copyright?
The author or authors or owner or owners. The exception to this is if the work was made for hire. Meaning you hired someone or someone hired you to do create a work.
The Poor Man's Copyright
The practice of sending a copy of your own work to yourself is sometimes called a "poor man's copyright." There is no provision in the copyright law regarding any such type of protection, and it is not a substitute for registration.
From an IP management standpoint, it's really not worth much. With the time it takes to mail it to yourself, you are better off filing for registration and getting the benefits.
Trade Association registrations are not a substitute for registration from United States Copyright Office (USCO).
Registration with the Writers Guild of America (WGA) or the Recording Industry Association of America are different. Additionally, neither ASCAP nor BMI provide the same protections as the United States Government protections by registering your work with the US Copyright Office.
While you may want to register with your trade association, please know this will not help you if you need court protection under the law. Also please keep in mind that a "registration" with the Writers Guild of America Registration (WGA) is only valid for a five-year period. Then you have to renew. A US Copyright Registration lasts for the life of the author plus an additional 70 years. For an anonymous work, a pseudonymous work, or a work made for hire, the copyright endures for a term of 95 years from the year of its first publication or a term of 120 years from the year of its creation, whichever expires first.
When is a copyright registered?
In March 2019, the Supreme Court answered the question as to when a copyright is registered. In basic terms, when you get a registration number/certificate (not the initial case number) from the Copyright Office, its registered.
When you file a registration, you get a case number. Once processed you get a certificate with a registration number. That number, for example, will start with VA or PA or TX. Case numbers start with a number like 1-.
In simple terms, it provides proof of ownership, rights to enforce in US Court, timely registrations can allow you statutory damages up to $150,000 per infringement. The big one is that the prevailing part can ask to be awarded legal fees. That right to attorney's fees alone can make a case worth it or not at all.
Without statutory damages (and attorney fees), most copyright infringement lawsuits are a waste of resources.
In general, you cannot sue for copyright infringement in federal court unless you have a registered copyright. Since you are probably going to have to do it at some point you might as well do it during the time when you can secure the largest benefit to your long-term success.
I will leave you with this…
Timing is everything.
Don't let others tell you not to worry about it.
Your experience and time went into creating a work.
Honor and respect your work by registering it. You owe it to your empire.
I hope that this information helps you protect your content. I'm more than happy to answer questions inside of our FREE Intellectual Property HQ Community Facebook Group.
If the podcast episode was informative or helpful to you in your endeavors, please take a moment and leave us a five-star review on iTunes.
Happy Hunting!
#antipiracy #art #book #books #branding #business #copyright #course #courses #dmca #education #entrepreneur #entrepreneurship #guide #how #influencers #intellectualproperty #intellectualpropertyrights #licensing #movie #movies #music #photo #photography #piracy #podcast #share #stepbystep #success #takedown #video #writer #journalism #news #journalist #author #OnlineEntrepreneur #workfromhomelife #bloggerlife #podcasthost #blogs #designer #IPLaw #contentmarketing #contentstrategy #musicmarketing #digitalstrategy #musicbiz
Disclaimer: This is for informational purposes only. This is not for the purpose of providing legal advice. The opinions expressed in this article are not from an attorney. You should always contact your attorney to obtain advice with respect to a particular issue or problem.