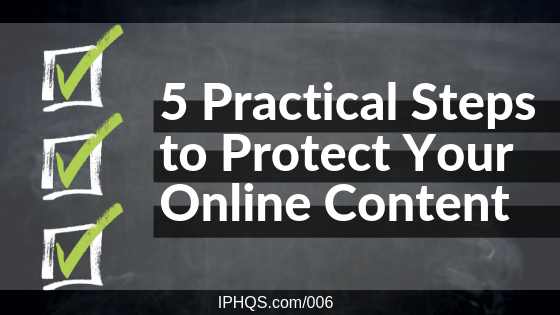 In this short episode, we're going to talk about some practical ways that you can protect your content online.
---
Click HERE to Listen on iTunes
Click HERE to Listen on Google Play
Have you ever worried about your online content getting stolen? I get asked, "How can I protect my content?" & "What is a surefire way for me to ensure that my content won't be stolen?" all the time!
Some 'experts' even tell you to just not worry about it.
If someone's telling you not to worry about your content getting stolen its because they don't have any real-world experience with piracy issues or copyright law. They probably aren't someone who you should take advice from.
The only way that you can ensure that your content absolutely won't get stolen is never put it out. Create it. Put it into a safety deposit box. Lose the key.
When you put your content on the web, there's a good chance that it will be stolen.
Hear me out. That doesn't mean there's nothing you can do and it shouldn't stop you from bringing your creativity and work to the world.
There are tools in place that you can use to thwart piracy and theft.
These are the exact steps I've taken to settle over a billion dollars in copyright claims for the world's largest studios!

Jason Tucker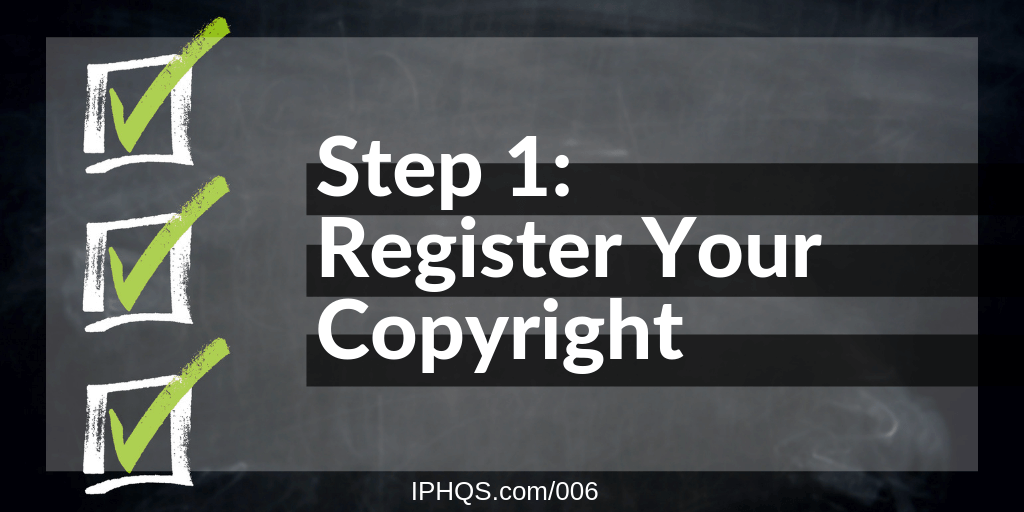 Step 1 to Protect Online Content: Register Your Copyright
It is true that when you create a tangible work it already has copyright protection under the law. That protection is limited to actual damages. In many cases, actual damages can be difficult to prove.
Complete Copyright.gov Application
Do you want the full benefits of the law, the pirate to pay for your attorney's fees, and some other elements if/when you decide to take any legal action? Then you need to register your content with the US Copyright Office before you publish or within 90 days of first publication.
Cost of Copyright Registration
I think that your work is important enough to spend the $35 to $55 US dollars on. The price can go up to as high as $85 on certain types of registrations but most range between $35 – $55 dollars, per registration. (As of the date of this podcast episode and blog post).
Take that extra step and spend the extra money and put that on your business.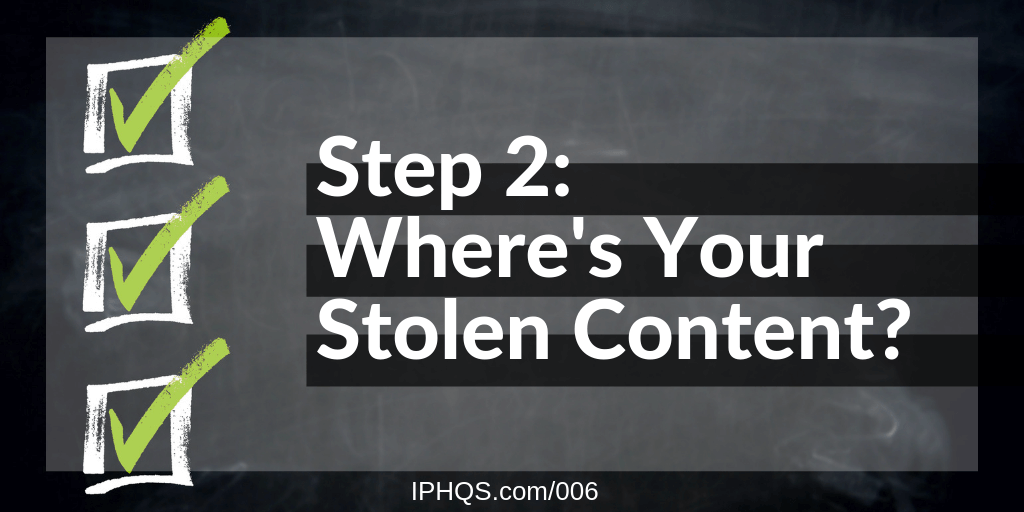 Step 2 to Protect Online Content: Identify Where Your Stolen Content Is
After you've registered your work with the US Copyright Office, the next thing you can do is identify what sites have your stolen work.
Keep Notes On What Links/Sites Have Stolen Your Content
Copy those links and put them into a notepad, excel, Google Docs, etc. Anywhere that you can copy and paste them for later use.
If this site is big enough and you think it's a big enough issue then record what you see on the screen that involves your work. Use Loom, Camtasia, or another screen recording software.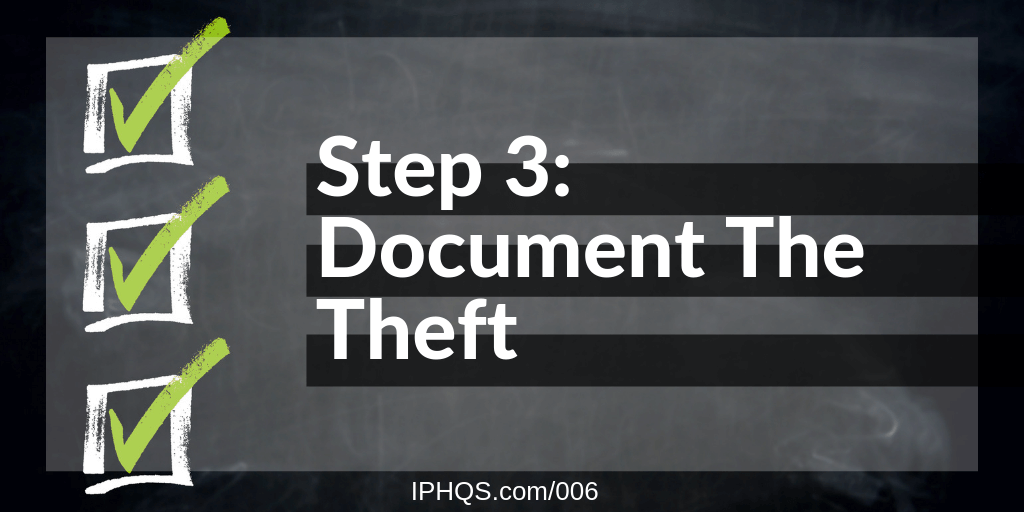 Step 3 to Protect Online Content: Document The Theft
Record Date & Time
First, I always start at time.gov before documenting an infringing site.
You'll want to do this so that your documentation shows a timestamp. Time.gov is a US government web site. It's also the clock that the United States government uses.
Record the Theft
It doesn't need to be fancy. You could use a free screen recorder like loom. Or even just create a pdf of the site/page.
You just need to document an example of the infringement. That way, if you decide to take legal action down the road, you have documentation. It never hurts to have it because it takes a couple of minutes to put it together.
Now you have what I would consider the start of some evidence and you can prove that your stolen content was on an infringing website.
Next you want to get your stolen content removed from the site.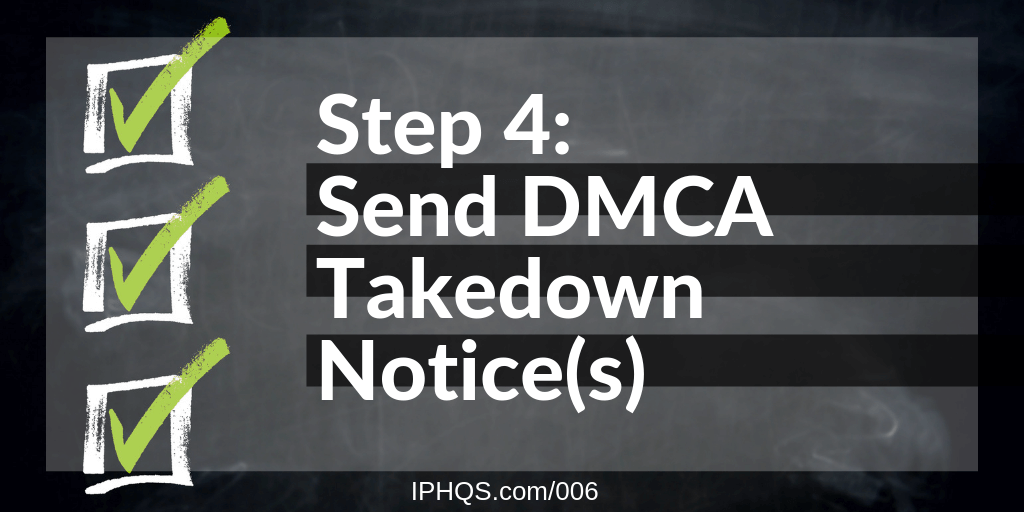 Step 4 to Protect Online Content: Send DMCA Takedown Notice(s)
What is a DMCA Takedown Notice
Under the Digital Millennium Copyright Act, a DMCA Takedown is:
"When content is removed from a website at the request of the owner of the content or the owner of the copyright of the content. It is a well established, accepted, internet standard followed by website owners and internet service providers.
Your right to process. Any owner of content has the right to process a takedown notice against a website owner and/or an Online Service Provider (e.g. ISP, hosting company etc.) if the content owner's property is found online without their permission."
A DMCA Takedown Notice is a cease and desist notice that is sent because a copyright owner believes someone has posted an infringement and they want it removed without the hassle of filing an infringement lawsuit. It's also the first step of legal action if you do decide to file an infringement lawsuit. It is authorized by the Digital Millenium Copyright Act.
We've created a DMCA Takedown Notice Generator and a DMCA Takedown Notice Template for you to use.
(You can find others on the web if you don't want to use ours.)
When you fill it out, you're going to put all of the information in where it asks for your information. It will ask for a way to contact you, the link that shows where the infringement is.

Then, just copy & paste that notice into an email & send it off to the email addresses that you find. Give them about seven to 10 days business days to take it down.
DMCA Link on the Infringing Site
There should be a DMCA link somewhere on the infringing website. It is typically at the bottom of the page.
It could be named DMCA or Copyright Complaint. If you don't see one of those pages, there should be an email address listed for copyright complaints or legal questions in the Terms of Service or Privacy Policy.
Send DMCA Takedown Notice to their Host
If you can't find a good email address for copyright infringement, DMCA notices, or legal then figure out who their host is. You can do that by doing a whois lookup.
Using WhoIs you can very quickly who their host or CDN provider is. If they're using a service like CloudFlare then you email abuse@cloudflare.com.
The point is to find an email to send the DMCA take down notice.
Best Practice: Send the DMCA Takedown Notice to an Email
Once you get an email (or two or three) then you are ready to send your DMCA Takedown Notice.
Make sure to include DMCA Notice in the subject line of the email.

Video Document Submitting Your Takedown Notice To An Online Form
Here's what you should do if you cannot find any email and your only option is to use an online form.
Personally, I'd rather send an email than use an online form because then I have an electronic trail that's a little more thorough and documented than an online form. But if an online form is your only choice then use the online form, then you can also record yourself submitting through that online form. This video will provide evidence that you in fact sent a notice via the online form.
Now you have documentation of the infringement and documentation of you sending in the take down notice.
I think that you'll find that people (who are decent people) will take down your content in the first 72 hours of receiving the notice.
We don't necessarily know what their workflow is or how many takedown notices they receive. I think 7 to 10 business days is a reasonable period of time for them to take down your stolen work.
What about when they don't remove your stolen content?
If nothing has happened after that 7 to 10 day period. Then what you can do is send another takedown notice.
When you send this one when you put DMCA Copyright Notice in the subject line of the email. I would also add – "Second Notice" at the front. "Second Notice – DMCA Takedown Notice".

Then, if you have to send a third notice after a week or so, then I would do the same thing because I have a paper trail.

If you're into the second or third notice what I would suggest is going and figuring out who their host is who their other "relationships" (if you are tech-savvy). You can take a look and find additional email addresses somehow associated with the site.
Other relationships can include the domain registrar, host, service providers, advertisers, and affiliates to name a few.
If it's a host or the registrar, whoever it is, typically they're going to email you back and say they are just the host or registrar. That's fine. At least you've put them on notice.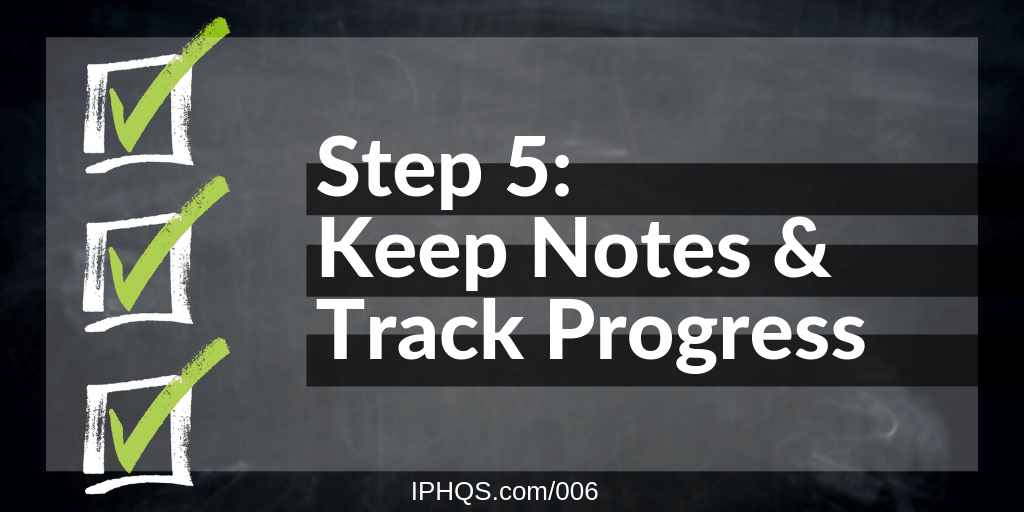 Step 5 to Protect Online Content: Keep Notes & Track Progress
Going forward you want to keep notes on if/when someone responds to your notice. What they say. Did they remove your content or simply rename the link it was located on. (That's another topic for another day.) You want to note the date(s) the notice(s) was sent as well as the dates you noticed that they were taken down.
In Conclusion to 5 Easy Steps to Protect Online Content
Register Your Copyright
Identify Where Your Stolen Content Is
Document The Theft
Send DMCA Takedown Notice(s)
Keep Notes & Track Progress
This process is part one of how to protect your online content. Here's a blog post with what else you can do when your content has been stolen.
Don't worry! This is something that occurs. It's probably not going to kill your bottom line. Theft has an emotional element but you got this!
I hope this information helps you protect your content. I'm more than happy to answer questions inside of our free Intellectual Property HQ Community Facebook Group.