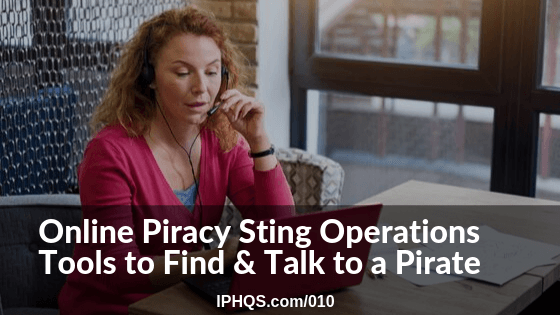 Summary: Finding an online pirate is important if you want to slow theft of intellectual property. Hear and learn from actual methods I have used to identify pirates of physical and digital goods, trace back to the source of IP theft, & learn what you can do to protect copyrights in the face of copyright infringement. Yes, you can really find an internet thief.
Click HERE to Listen on iTunes
Click HERE to Listen on Google Play
Can you find a point A for piracy?
YES.
Why would you need? Because talking is really the only way to bring about a solution. The best way to handle a situation is to talk and to do that, people need to be found. After 15 years I can tell you that just because you sue someone or they pay a settlement or even go to jail does not mean that will stop stealing. Another way to say that is it doesn't mean they will stop stealing your clients work or your work unless you can give them a reason not to.
Finding a "Point A" is important because if you cut the water source off, you can slow the flood.
The most effective way to protect your copyrights is to ID a pirate.
How do you track them down? It depends.
Keep in mind that sometimes the thief looks like a good customer.
If I want to find the source, I look at Internal v External threats to the content as a point A.
If you have ever seen the movie Outbreak or read about how the Center for Disease Control traces a virus back to Patient Zero, you will have some idea of how this can be done.
To give examples of how this works with tangible goods, Ill use a Movie Studio.
Example of a sting operation we ran to identify and bust up an international DVD and digital piracy ring.
I got a call from a Studio that was having an issue with DVD copies of their movies getting out and it being sold and streamed before any legal release. They explained more and asked what I thought. My response was we need to run a sting operation at the replication house.
A couple of elements, we had to clear a person in charge at the replicators and I didn't want whoever we found to get fired and disappear. I wanted to talk to them and chase that lead as far as we could. Why? Based on what I found online, there were other players and I wanted to know what else I didn't know. I didn't want to end one problem to have it appear in another location. I wanted to end this problem with a deal with whoever was calling these shots.
The studio agreed and we put elements to work. Without going into everything, I knew the replication house and I was able to rule the owners out. They agreed to our plan.
From time cards, we figured out who was working on each of the films we identified.
We had near identical masters made and we used those on different lines and shifts.
We made sure our identified crew was working and then we waited.
When the movie popped up online, we were able to trace that source to a particular site. Based on the cut of the film we knew which line it ran on. We narrowed it down to two people. I met with one for less than two minutes and knew it was the other one fidgeting outside the office.
I was able to get information on the next person and the next person in the chain.  From this one lead in Los Angeles we were able to map out six people between the United States, Australia, and Ukraine. More importantly we were able to end this issue for our client.
People have patterns. Patterns are revealing and helpful.
Humans are creatures of habit. We have thousands of habits. These habits are how people can be tracked. Do they drink coffee? Do they use cream? Do they drive or walk to work or school? Do they wear hats? Forward facing or reversed? If you watch you will also see patterns online. Do they use Website names that include numbers? Do they shorten words? Do they use email addresses from Gmail, or Yandex, or Yahoo? Are the names they use online famous sports or movie stars? What sports and what countries? Is their first language English? If not, what appears to be their first language? How are they routing their ad revenue? What other sites do they own? What patterns are there?
The point of all of this. Is that as you come across emails and names through all of this, those patterns will narrow your list from what could be a dozen names to three to one. Sometimes narrowing is as easy as taking a username and putting it into Google and bam places they have posted, written, commented on.
When I run these same user names against a client membership site, I sometimes get a match with their username. Then I approach and begin discussions.
People if given enough time will show you their pattern and they will get lazy and make a mistake and that mistake like a fingerprint will give them away. When we get information back from hosting companies from a subpoena, I love, love log files from website hosting companies. Top three places people slip up is logging into servers. They may use a Virtual Private Network (VPN) to mask their IP and location on dozens of days but there is invariably that one login at 2am when something was wrong and boom, thank you for the gift of your identity.
My typical reach out is not hostile, it's not warranted. Its hi, I got your information from XYZ, I know you have been doing this and we should talk about working out an agreement because if not my client has instructed their attorney to do this or that. All of what I write is true. Remember don't threaten litigation and deliver on promises.
I always include an expiration date…not to be an ass…but because there is a clock I run and its called my time and if you are not moving in my time, then we may need to use attorneys or find other ways to get you to take us seriously because we still have a job to do. If you can get someone to answer you then you have completed a big step. If you can get them to agree to your timetable, you are in a great negotiating place.
Most pirates don't want headaches and they want to be left to do what they do, make money.
The point is that no matter how elaborate or simple the process, the objective is the same. Find the person or people that are the point A of your virus called, "stealing your work" and talk to them. Work out a deal or a solution.
I get told where to go. I get ignored. I get threatened, albeit less than I used to. As long as they are talking, and you know you have good contact information. You can work towards a solution.
When the talking stopsuse other tools to get them back to a taking place.
Some don't like the idea of talking to those who steal but realize if the thief does not agree to stop and they are willing to continue no matter the consequences, the only thing you can do is work towards an agreement.
The last note I leave you with is what is all of that worth to you? Sometimes just because you find a thief doesn't mean they are a problem right now. I have had clients focus on sites that have no traffic. They go to this site daily and focus on it.
Yes, they stole or steal your work but if they are not making any real money how much time can you realistically spend to make it worth it. These are baby pirates. When I find baby pirates that won't stop or talk, I don't advise spend a lot of dollars on legal moves. I would rather put them into a folder and check back on them in six months or a year and hope they get good at making money with the content. Because then when it makes financial sense to go after them, they have something worth taking or enough money to pay to satisfy the expense and our client.
That is really how you gauge the hit. Did they pay enough and did they feel it?
Can your last words to them be look if you would have answered my email a year ago this would have been cheaper? Please let's remember that for next time because we don't know if there will be or not, that is up to you.
Happy hunting.
I hope this information helps you protect your content. I'm more than happy to answer questions inside of our free Intellectual Property HQ Community Facebook Group.
If this blog post is helpful to you in your endeavors, please take a moment and leave us a five-star review on iTunes.