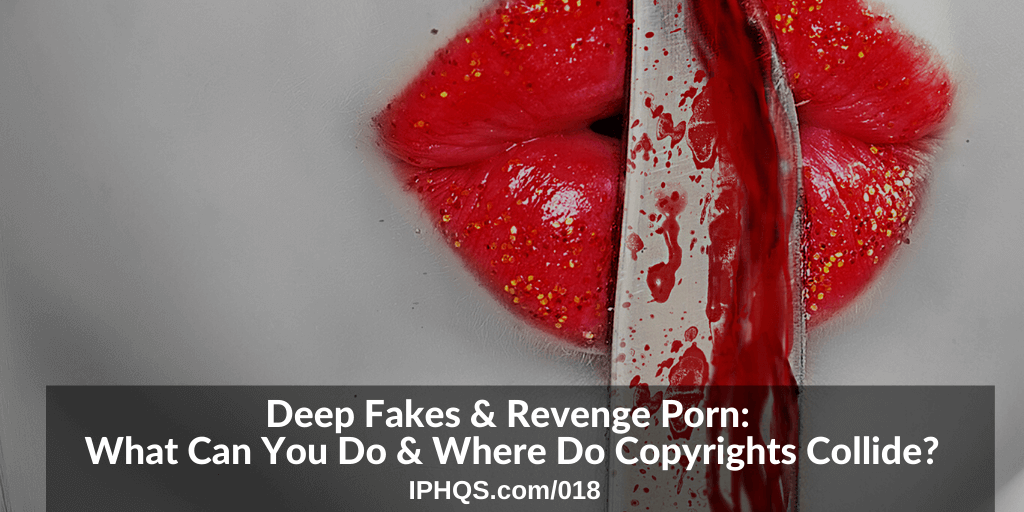 In this episode you will learn about Deep Fake Videos & the scary global ramifications of the technology. Learn what you can do if you're a victim of a fake or real Revenge Porn Video & how the Copyright Owner has control over distribution. This episode has a step-by-step guide to help deal with revenge content. Learn how you can identify the source & ways to get content removed while taking control back.
Click HERE to Listen on iTunes
Click HERE to Listen on Google Play
Deep Fakes, Deep Fake Porn, and Fake Revenge Porn are buzz words to describe photos or videos typically where someone's head is superimposed on to the body of another. The uses are infinite, the uses in a propaganda campaign are devastating.
Deep Fake Use:
We are seeing the uses to attack politicians and as a form of what is called Deep Fake Porn or Revenge Porn. If a jilted lover doesn't have an original video shot with you in it, they can create a videos or photos using deep fake software.
Pro Tip: Personal porn is dangerous.
On a personal note, I do not think Revenge Porn is a great term. I do not think that it properly articulates what is taking place and as its been shared by others, it implies that the victim did something to justify being victimized.
Cyber Rape:
I prefer the term Cyber Rape. That is what is taking place and if that term emotes a shocking response, good, because it should. It's horrific. When this occurs, it destroys people, lives, families, and even if and when the content is taken down, it leaves a life long scar and fear in the victim. Fear that someone may have seen the content or fear that it could come back.
Not to add salt to a wound but I believe that it is rare that something is ever truly removed from the internet. If a piece of content is up for more than an hour, someone has a copy of the content somewhere. It may never see the light of day but its sitting on someone's hard drive.
Deep fakes are on the rise. Specific to video, the technology has improved significantly in just the last few years. The ease of use and ease of access to that technology should be alarming to potential targets.
Deep Fakes Present a Clear & Present Danger to Society
Governments and legislators are not doing nearly enough to deal with the issue head on. Like most tech-based situations, they don't fully understand the technology enough to realize the size and scope and clear and present danger that it presents. This can be used to topple governments, leaders, and destroy people, their reputations, and their psyche.
In the US there has been some legislation. California was an early adopter of a Revenge Porn Law. Like any form of copyright infringement, laws will only get people so far. If you leave it up to the law, you could be in a slow game. I'll get to problem with slow later on.
Deep Fakes & Revenge Porn Are Not New:
Since the launch of Photoshop and before that anyone with an Exacto knife, glue, markers and patience could create and release a photo that looked like the intended target doing something that could embarrass that person or people. The Central Intelligence Agency has been using that technique for more than half a century.
Before video and image fakes there were radio fakes. Orson Welles famously delivered the War of the Worlds as a radio show. If you listened to it and this was your only form of real time news, you would be freaking out. At the time, people freaked out. Rumor has it that people committed suicide thinking that aliens had landed and were attacking cities. Some were packing and getting their families on the road away from the incoming alien attacks. After this was over it was huge news and front page the next day all over the US. If you get a chance, listen to the recording. For its time, it was powerful.
FULL AUDIO VERSION: War of the Worlds
Listen to Welles' recording and then imagine what would happen if you saw a video of a person you know committing murder or robbing a store or a politician in a compromising situation. Your brain would automatically go to, "THIS IS REAL." You are not currently pre-programmed to go to, "IS THIS FAKE?" People could go to jail because of this technology.
This technology is so powerful that you could start a Civil War in another part of the world or affect a Stock Market from your living room.
Earlier this year a video was released of House Speaker Nancy Pelosi speaking at an event. The video was slowed down by a person and distributed with text that basically said that she was drunk. The slowing makes it appear that she was slurring her words. That video took off and now you can find way too many people who are positioned with the belief that Pelosi was drunk and they ask where else is she drunk and making decisions? Pelosi, former ranking member of the House Intelligence Committee and Speaker of the United States House of Representatives cannot get the video removed. Main reason, Pelosi does not own the video.
A person connected to her reached out when this was released and asked if there was anything that could be done. I suggested that she buy the video and send takedown notices to everywhere and anywhere it showed up. Based on results that didn't occur.
It is amazing how improved the face swapping deep fake technology is in comparison to just 24 months ago. I'm not going to share all the drivers or turn this into a 'how to' but OpenFaceSwap and a few others are impressive. You can replace a face on a video to a degree that the human eye cannot tell the difference. I have seen more than one where we had to use forensic software to analyze pixels. Not to prove that it was fake but rather to show where the victims face ended and the copyright protected video began.
Vice, like many of their pieces, has been doing a great job at publishing informative and easy to digest stories on Deep Fakes and Deep Fake Porn.
The first deep fake celebrity video I saw was about 16'ish years ago now. It was of OJ Simpson with two girls in in Florida a hotel room. Parts of it looked real and it was clearly a setup. The girls were prepared to state that he was doing drugs with them. The room had been pre-wired with cameras and the girls were paid to seduce him.
What they didn't get was a clear shot of Simpson in bed going at it with the two women. For this, it was obvious that his head was superimposed. OJ Simpson has a huge head that when you see it on his body, doesn't match to begin with. It was obvious what this guy did, they took another guy and had him with the girls. They took some pictures of OJ's head and edited those onto this guy face when he turned and looked toward camera.
There was no flow, anytime OJ looked at the camera they froze the shot and boom there was OJ's face and they cut back with a smash or purposely designed to look like a glitch in a cheap attempt to match the scene. It was pathetic.
The person showing it to me on a DVD in a hotel restaurant in Santa Monica made it clear that he did this to blackmail OJ. Simpson wasn't liquid at the time and hadn't come up to his price. This want to be mobster guy asked if I could help release it for sale. The guy was able to produce two signed releases from models and what was clearly a cut and paste job on a model release from OJ Simpson. You could see the tape marks above and below the signature on the copy. Me being me I asked for the original and the source video. I told this guy that I wanted to have our people cut a better version and that we need originals to get better copies.
Long story short, the guy went nuts, started getting aggravated, yelling, making insane demands and my partner and I left got up and left. The guy that set the meeting up was apologizing to me over and over. Not his fault that some scumbag from Florida lost it when I asked for the one set of items' he knew that he couldn't give me. That is why the guy popped. I boxed him in.
To be clear, I had no intention of helping him.
That video eventually made its way on to the internet and its still out there to this day albeit not with the splash the producers hoped for. Again, this is not new technology it has just gotten a lot better.
All of this being said here is the bottom line. You may own the name and likeness of your person but more than likely you won't own the videos or images used to make the deep fake.
If you are a victim of Revenge Porn, HERE IS
A. What should you know about Deep Fake Porn?
B. What can you do about removing the Deep Fake Porn Video (aka Revenge Porn Video)?
Let's break that out.
We will start with and I am lumping together Deep Fake Porn and Revenge Porn aka Cyber Rape. Whether it's a celebrity or not the content source has to come from somewhere.
Most people do not have a video collection of typically unknown people engaged in sex acts. People who typically create these types of videos will go for lowest hanging fruit. That being content found on adult tube sites or in adult site member areas or from a recorded Live Cam Show.
Here is the thing about that…that content is owned by someone. That produced content is typically owned by a studio and most studios register their copyrights.
If you find your face superimposed on to a well-produced adult scene there is realistically a 70% or higher chance that the owner of that source video is a client of ours. I'm not sharing that for puffery, but rather so you understand that I know what this looks like, what I am talking about, and there is a chance that we could be a resource if you find yourself in this position.
If you find yourself in this position, in most instances, you cannot send a DMCA Take-down Notice to have the content removed.
EVEN IF ITS REALLY YOU AND YOU PARTICIPATED IN SHOOTING THE VIDEO…ASSUME WHOEVER SHOT IT, OWNS IT. If this is your ex lover, they own it. You may have rights to the video but this is for your attorney to answer.
YOU are not the owner of the content.
The owner of the source video CAN send a DMCA Takedown Notice in an attempt to have it removed.
Without a Court Order, the Owner of The Video is The Only Person with Power.
EVEN IF ITS YOU AND YOU PARTICIPATED IN REALLY SHOOTING THE VIDEO, WHOEVER SHOT IT, OWNS IT. If this is your ex lover, they own it.
The Owner of The Copyright Controls Where the Content Can Be Displayed.
Like it or not, that's reality. To the best of my knowledge that's the law.
Here me, if you are in this position, I want you to know that there are things you CAN do to help your situation. It may not be perfect but you can mitigate this problem in time. What I am about to explain is the best use of your time right now. Don't engage the other person. Get this done.
If it were me, my Point A, my first step would be to document the incident. In most circumstances you can worry about all the evidence regarding who did it AFTER you have documented the video.
All of those text message or emails you may have aren't usually going anywhere. If you are worried that could happen because the phone may not be in your name, just quickly screen shot the text messages and email them to yourself.
Focus on The Video Where You Are Featured:
Use some software like Loom or Movavi to record the screen showing the video. I would not blow the video full screen because the items around the video like ads and links are important to document. I see people focus on the full screen and they miss what I call the good stuff.
Start your recording at the website Time.Gov so that you have a time and date stamp for your video and then go to the page with the video you want to record.
After you have recorded the screen showing the video, PDF the page and then view the source code of that page and PDF that source code. That source code is going to be filled with good nuggets for your case.
If you don't know how to do get to the source code here is a link to how to: HOW TO VIEW SOURCE CODE ON A WEB PAGE
If you feel the need go back and record the full screen.
Organize and PDF any emails or text messages you have that could show proof of who did or contain any admissions of guilt by another.
Now with all of that organized. I would contact an attorney. You are now in a position to present everything in a clean manner to an attorney who can now begin to advise you and work your case.
My top choices for these types of cases are:
Brooklyn attorney Carrie Goldberg who wrote a book called Nobody's Victim: Fighting Psychos, Stalkers, Pervs, and Trolls and can be followed on Twitter at @cagoldberglaw and;
LA based Lisa Bloom from The Bloom Firm. Lisa Bloom is on Twitter at @LisaBloom.
If those two awesome powerhouses don't work, reach out to whoever you think may work for you.
At some point I imagine you should file a police report. When you do, you are going to want to get a report number and eventually a copy of the police report.
All of these documents, videos, screenshots, etc. should be kept together in one folder and I would highly recommend that you either store a copy on something like Google Drive or Dropbox. ONLY share viewing rights with a family member you trust with your life. Do not share read and write or administrative access, just read rights. You do not want whoever you share it with to have the ability to delete or edit any of that evidence.
Another benefit to having it on a virtual storage device is that you can also share it with your attorney with ease.
Part B: Finding the Owner of The Video.
This applies to anyone whose head has been superimposed onto another video or image. If its a real video you shot that is being exploited, skip to Life Saving Tool below.
Sending emails to the locations where the video is displayed is really a waste of time.
We use different techniques but we also have custom software and a large client content database we can access to identify video. I think I may have two ways that may help. This is what I would do if I were in this situation.
Make jpeg screen shots of two shots at the beginning, middle, and toward the end of the video. I would black out my face or distort it a bit. HOW TO MAKE SCREEN SHOTS
Go to Google Image Search and upload the images one at a time and do searches to see if anything comes up.
Chances are you are going to find a website with this video or similar video.
In the Adult Business, similar is good. In the Adult Business content is typically shot by niche for a particular membership site. In many instances the beginning of the video could be set up the same.
If you find a similar match you may need to watch the video to see if it matches your video. I wouldn't initially focus in on the model. I would be looking at the background. The headboard, or a desk, or a tree, or whatever. The background may give you more ability to match than the fast action in the foreground. You can use the models for matching but it could be quicker to start with background. Go with what works for you.
Once you find a match, on the match, there should be what's called 2257 information at the beginning or end of the video depending on how it was cut. That slide should show the company name and their address and maybe a website address.
If you do not see 2257 information, you may see a watermark displaying a website address.
Go to that website address and scroll to the bottom of the page and click on the 2257 link or Terms of Service. This will get you to a page that has contact information like an email address. If you only found a company name, Google it, find one of their sites and follow the same steps to get to contact information.
If it were me, I would send them or have my attorney send a simple email, SIMPLE, explaining that I was a victim of a deep fake, not the whole story, just that I was the victim of a deep fake revenge porn video. I would include the link or links to those videos and ask them to send that site or the list of sites DMCA Takedown Notices to get that content down.
I would also let them know that I have an attorney and filed a police report and intend to proceed with a civil action against the person who made the deep fake. I would include the police department contact and the report number. If I had it, I would attach a copy of the police report.
I would thank the Company for their assistance in the matter and provide contact information if they have questions.
The creator of the original video, not the video where you are exploited but the original video is your friend in this deal. If you overwhelm or attack them, they may not want to help you. Who wants to assist someone who is yelling or attacking them? They did not make the video with your face. This may seem simple but emotions can get the best and when we can't reach the person who did us wrong, we tend to take things it out on who we can contact.
I have had to remind a few who I have assisted in solving some of these matters that I was not the one who did it. I have had to say, "Hey, I'm in this with you, stop attacking me if you want support." Its natural to run hot in these instances. It's important to stay focused on who is on your team and not take it out on them.
Life Saving Tool:
A great tool I have recommended is to take your phone and record everything you would want to say to whoever did this. Every time you feel like texting, emailing, or calling them, record it instead and then delete it another day or file it away to use in your tell all book.
Going head to head with the person who did with without an attorney or court as a third party, will not work out well for you.
I am by no means attempting to minimize anyone's feelings or the gravity of the situation. Its traumatic, its disgusting, its wrong. But…there is a time, a place, and A WAY to get it out effectively. You don't want to wing the person who did this, you want to use the legal systems and tools to smack them. That takes a chess like approach.
IF you are unable to find the source video after you have followed the steps I laid out, we have a Facebook group called the Intellectual Property HQ Community. Join it and ask for support. I will see your message and if I can, I will find the source with you and if I can I will assist you in navigating the waters.
IF none of that works. I would go to a well-known adult fan chat board, post the screen shots and offer $100 PayPal to whoever can tell you what video it's from. You would be amazed at how fast crowd sourcing your problem will get you solutions. You can offer the winner an extra $50 and rights to claim winner on the thread, if they tell you five to ten places where that video shows up and what Studio produced made it.
As we wrap up this episode, I will leave you with the following:
As time goes on and technology improves, especially this coming year as we are in an election cycle, question any video that purposely goes out of its way to destroy a candidate.
If that video is not from a legitimate news outlet, really question. A video on YouTube may not be what you think it is.
Do your own homework. If for no other reason than you might as well start now getting in the habit of programming your brain to ask, "IS THIS REAL?" Could someone be trying to influence me by showing me a video of something that clearly is going to change my mind about another person.
If you are a victim of a fake video. If you are a celebrity, not celebrity, politician, whomever, the detailed steps I laid out will support you in getting a handle on a crisis that can run out of control.
I understand how time plays into situations. For over 20 years part of my business has been crisis management. We regularly work with known people and when needed law enforcement agencies and lawyers to squash problems or come up with solutions to situations that require a timely response. I like handling these situations quietly leaving the least number of fingerprints. This is partly how I got the nickname of The Wolf.
The steps can be done within a day or two. It may take longer to reach out to some of the people I listed and get them in action mode. Know that taking any step is good and by taking that step, you are gaining control.
I hope that this information helps you better understand what is in front of us as a society and what you can do if you have been a victim.
I'm more than happy to answer questions inside of our FREE Facebook group at Intellectual Property HQ Community.
If the podcast episode or this blog was informative or helpful to you in your endeavors, please, please share it with your friends, post it so together we can help others.
Also, please take a moment and leave us a five-star review on iTunes.
You can follow me on Twitter @IntelPropHQ
Happy Hunting!
#revengeporn #deepfake #cyberbullying #women #IP #antipiracy #videos #education #cyberviolenceagainstwomen #copyright #podcast #intellectualproperty #influencers ‪#contentstrategy #contentcreation #digitalmarketing #socialmedia #journalism #news #journalist #blogs #legal #womanpower #advocacy #staypositive #digitalstrategy #publishing #marketing #intellectualpropertyrights #contentmarketing #socialmedia #independentjournalist #content #publisher